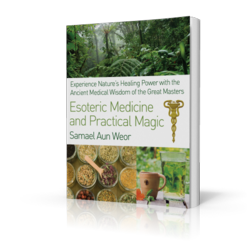 Magic: derived from the ancient word magos "one of the members of the learned and priestly class," from O.Pers. magush. Thus, genuine magic is the power of a priest or holy person to help others.
New York, NY (PRWEB) November 09, 2012
In the mountains of Colombia there are native tribes who have thrived in self-imposed isolation for five hundred years, who, seeing the destruction brought by the Europeans, retreated into the mountains and obscurity. Six decades ago, in an unprecedented move, they invited an unlikely pair of outsiders to live with them and learn their most protected knowledge, wisdom that preserved their population and culture for hundreds of years. With their blessings, Samael Aun Weor and his wife Litelantes then published a book of that knowledge, which has inspired and aided millions of readers throughout Latin America. Now it is available in English.
Glorian Publishing, a non-profit organization, is pleased to announce that "Esoteric Medicine and Practical Magic," one of the most important books by one of the world's most prolific authors, is now available in paperback for $18.95. The ebook edition, fully illustrated in color, is coming soon.
The priests and doctors who led and preserved their unique culture taught Samael Aun Weor and Litelantes that Nature is the source for all genuine medicine, and that a properly prepared individual can use Nature to cure any illness, statements that mirror the teachings of Hippocrates, Paracelsus, Galen, Tibetan tantras, and others. The book records hundreds of healing techniques using plants and other natural ingredients, along with prayers and meditation techniques. Readers are astonished to find that the philosophy and spiritual concepts are fundamentally the same as the ancient knowledge of the Greeks, Tibetans, Kabbalah, and others, yet while the specific medicines and treatments of those traditions are lost or hidden, those of the natives are now available to anyone by means of this book.
Samael Aun Weor (a Hebrew name) remains largely unknown in the English-speaking world. But in his native Latin America, he is known internationally as the author of over seventy books about the fundamental root knowledge from which all our most important philosophical, scientific, and religious traditions blossomed.