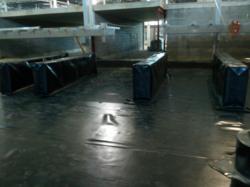 The time savings a flexible liner offers over other lining options just can't be matched
Claremore, OK (PRWEB) November 12, 2012
Witt Lining Systems, the nation's leader in flexible PVC corrosion resistant liners, announced that it has completed the first phases of a containment lining project months ahead of schedule.
Witt Lining Systems was chosen as the flexible PVC lining supplier for the containment lining project of a new metal finishing facility being constructed in Michigan. The project involves a Koroseal PVC flexible liner underneath the foundation along with a containment liner underneath the new process line.t
Other metal finishing companies in the state have recently came under EPA fines for contamination of nearby ground water because of inadequate secondary containment areas. The firm chose a flexible PVC liner due to the long service life and low maintenance offered by such liners.
"The work on the plating line area wasn't even supposed to start until December and here we are in early November and already done the first section" said Witt Lining Systems' President Andrew Hotchkies. "Because we aren't waiting for concrete to cure we can put a protective lining on the areas finished so far and move everyone's schedule up" he added.
The installation of the liner is being performed by Stein Industries. "The time savings a flexible liner offers over other lining options just can't be matched" said Melvin Stein.
Besides the containment area itself, the liner also covers the piers and foundations that the process tanks will sit on. "The second I am finished, the tanks and other equipment can be put into place" commented Stein when asked about the benefits of a flexible PVC liner.
As other work continues around the installed liner, the waste treatment area and chemical storage areas are to be built and also to have flexible liners installed in early 2013.
Witt Lining Systems is located in Claremore, OK. The company manufactures flexible PVC liners used for corrosion resistance in process tanks, storage tanks, vats, sumps, pits, and containment areas. PVC brands include Spectra Blue, Exceline and Koroseal PVC along with NSF-61 PVC and Teflon liners. For more information contact 1-800-323-3335 or visit http://www.wittliners.com
Stein Industries is a custom designer, fabricator, and installer of plastic tanks, custom equipment, and Witt Linings' factory installer in industrial and commercial applications. The company is located in Bryant, IN. For more information contact 1-260-997-6700 or visit http://www.steinindustries.com.