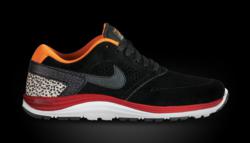 Wow, we thought these shoes were exclusive to P Rod's shop, Primitve. We personally LOVE this colorway and are stoked to be releasing them at Pure.
Annapolis, MD 21401 (PRWEB) November 08, 2012
Pure Board Shop has just dropped the Ultra Limited LUNAR ROD X PRIMITIVE SAFARI:
ROOTS AND INFLUENCES EXAMINED
A special limited edition release from Nike Skateboarding, the Lunar Rod x Primitive collab has just shown up at Pure.
From the mind of Nike Skateboarding professional Paul Rodriguez, the new Lunar Rod model is the product of combining the sole of a Lunar Braata shoe with the upper from Paul's latest signature model, the P-Rod VI. It just so happened that these two seemingly distant points in the footwear spectrum fit together perfectly, and the Lunar Rod was born.
Paul has become a sneaker aficionado in the face of a constant barrage of footwear, and realizes the key influence that running shoes have had on skate shoes over the years. Utilizing the same creative instinct and ability to adapt that's made him one of the top skaters of all-time, Rodriguez once again shows his signature flare with a running outsole in the same experimental fashion as both the P-Rod 2s and P-Rod 5s were given in limited capacities years prior.
To get the homies in on the launch, it only seemed fitting to have Paul's Primitive crew create a celebratory limited colorway of their own. As the heads came together, their mutual admiration for a classic Nike release led to the decision of taking cues from the Safari-flavored Air Max 1 for their new design. Instantly recognizable by its unique color-blotted print, the time-tested Safari aesthetic remains a cult favorite amongst the devoted, and the gang at Primitive were hyped to incorporate its trademark wild-style into the construction of their vision.
Original Air Max 1 Safari, which influenced the look of the Lunar Rod X Primitive.
But why a running shoe for a professional skateboarder? P-Rod himself is quick to point out that much of the innovation seen in skateboarding footwear has stemmed directly from the superior cushioning and comfort of Nike's world-class running shoes. Both Air and Lunarlon were originally developed for runners and later plugged into skate shoes; Zoom Air was applied to the first SB Dunks the same way that Lunarlon was adapted for the foundation on which the Koston 1 and P-Rod Vs were built. The fact is that running footwear has been influencing our skate shoes for decades, so don't be surprised if we see this trend continue with more of today's top pro skaters. They're comfortable. It's that simple.
It is a rare bird, and hunters have been known to flock on previous Safari expeditions, so don't sleep.
Pure Board Shop opened its doors on May of 2005. After co-owning Evolve Board Shops in Annapolis and Bethesda Maryland from 1993 to 2003, Robby Roberts put Pure on the streets a few years later. Its ease of access and parking make it a destination shop for riders and urban street wear fans alike. With their mix of products and variety in skate, snowboard , surf and exclusive street wear and shoe brands Pure's customers extend far beyond their Annapolis location. Pure prides itself on customer service being its number one priority, with product knowledge and having the right product mix a close second. The store and the website feature an ever growing inventory from brands such as Nike SB, Nike Kaiju Snowboarding, Travis Rice,Lib Tech, Adidas skateboarding, Vans, Levis Skateboarding, Diamond Supply Co, HUF, LRG, Neff, RVCA and The Hundreds, as well as a large selection of Sunglasses and other accessories. The shop also prides itself on having the largest inventory of longboard equipment in the area; with brands like Landyachtz, Rayne, Caliber, Cult, RAD, Abec11 and many more. Pure puts on skateboard jams and video premieres at their local skateboard park as well as sponsors many longboard slide jams and races in the Metro Area.
Contact Pure at 410-267-7669.
Their new website will be up soon; pureboardshop.com