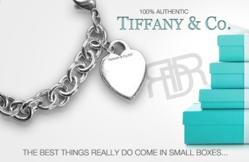 The new Tiffany Enchant collection captivates …
(PRWEB) November 13, 2012
To help luxury lovers stay informed on the latest in upscale style and Hollywood happenings, Rodeo Drive Resale (http://www.shopRDR.com), premier reseller of 100% authentic Tiffany & Co. jewelry, Louis Vuitton wallets, and Fendi accessories, looks at the latest collection by Tiffany & Co., one of the world's most popular luxury labels.
On Sept. 14, 1837 in New York's lower Manhattan, Tiffany & Co. opened its doors for business. Now officially 175 years old, the beloved jewelry and accessory store looks better than ever, and as Tiffany & Co. celebrates nearly two centuries of service, the beloved jeweler presents a new collection featuring dazzling necklaces and other timeless items.
Designer accessories, such as a luxury belt or a pearl necklace, are simple ways to make an outfit shine. ShopRDR.com suggests having fun experimenting with pieces such as rings, earrings and bracelets to discover the perfect outfit/accessory combination. While accessories are wonderful, Rodeo Drive Resale co-founder Raya Jaffer was careful to point out that, when it comes to the bling, less is more: "A large, blingy necklace with a chunky bracelet is too much. Your accessories should never compete."
Earlier this year, shopRDR.com held its "The Best Things Really Do Come In Small Boxes," campaign, offering amazing deals on authentic Tiffany pieces such as a Tiffany heart tag charm bracelet, sterling silver double open heart bangle bracelet, a Tiffany bead necklace and more. Although the promotion has ended, shoppers can still take advantage of the Tiffany deals still available at the premier online reseller.
"The best things really do come in small boxes ... small blue boxes that is!" Noted Raya.
As with every item available through shopRDR.com, all Tiffany & Co. items are backed by a 100% money-back guarantee of authenticity. In addition to their sales, shopRDR.com offers one of the best deals on consignment in the business, paying up to 70% of the final selling price for handbags, shoes, jewelry, accessories and watches on consignment.
Accessory Tip of the Day – Date Night: When making a lasting impression is important, even the little things count. Adding a vintage (or simply vintage looking) piece of designer jewelry, such as an eye-catching ring with loads of personality, not only adds to the elegance of an outfit but can be a great conversation starter. Hand type should be considered when searching for a ring: Long, skinny fingers should steer clear of large rings, but they look fabulous on smaller, thicker hands. Experiment with different styles and see what works best.
Rodeo Drive Resale (shopRDR.com) has built a reputation of providing amazing deals on handbags, clothing and accessories from the top designers of upscale fashion. The company offers a 100% guarantee of authenticity on each item sold, and works daily with a network of clients looking to buy, sell, or for consignment of their luxury goods.
ShopRDR.com loves high-end fashion, and believes finding a high quality, classic piece should be an easy, enjoyable -- and most importantly -- hassle-free shopping experience. For the finest in Louis Vuitton, Chanel, Prada, Gucci, St. John Knits, Christian Louboutin, Tiffany & Co. and more, visit RDR online at http://www.shopRDR.com or call 1-888-697-3725. Also find shopRDR.com's blog at http://blog.shopRDR.com.
Also find shopRDR at:
Blog: blog.shopRDR.com
Facebook: facebook.com/shopRDR
Twitter: twitter.com/shopRDR
YouTube: youtube.com/ shopRDR
Pinterest: pinterest.com/shopRDR
Rodeo Drive Resale (shopRDR.com)
1-888-697-3725
service(at)shopRDR.com