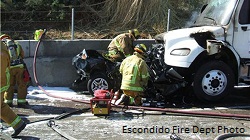 Newport Beach, CA (PRWEB) November 09, 2012
Four people suffered injuries in an Escondido truck accident after the driver of a large truck crashed into the rear of a sedan setting off a chain-reaction collision. A Nov. 4 NBC report states that the multi-vehicle collision occurred the accident of Nov. 3 on the southbound Interstate 15 near the Via Rancho Parkway exit. California Highway Patrol officials told NBC that a 47-year-old man who was driving the freightliner tanker truck saw traffic come to a stop and applied his brakes, but could not stop in time and crashed into a Chevrolet Malibu sedan. The chain-reaction crash involved two other cars as well, the report states.
The Malibu sedan became wedged under the tanker, which caught fire and the driver of the sedan was trapped inside suffering major injuries, according to the report. The three occupants of a Pontiac, including a 1-year-old baby, suffered moderate to minor injuries as well, the report states. Officials are investigating the cause of the collision, NBC reports.
"My thoughts and prayers are with the injured victims of this truck accident," said John Bisnar, founder of the Bisnar | Chase personal injury law firm. "I wish them all the very best for a quick and complete recovery."
Bisnar said in such cases it is important to determine how or why the truck accident occurred. "As truck accident attorneys who have represented seriously injured victims, we have seen that the most common causes of truck accidents involve poor vehicle maintenance. Brake failure often causes devastating truck accidents. In some cases, driving at an unsafe or excessive speed may also cause or contribute to a rear-end truck accident because these large vehicles require more time and space to come to a stop."
About Bisnar | Chase
The California truck accident attorneys of Bisnar | Chase represent victims of auto accidents, defective products, dangerous roadways, and many other personal injuries. The firm has been featured on a number of popular media outlets including Newsweek, Fox, NBC, and ABC and is known for its passionate pursuit of results for their clients. Since 1978, Bisnar | Chase has recovered millions of dollars for victims of auto accidents, auto defects and dangerously designed and/or maintained roadways.
For more information, please call 800-561-4887 or visit http://www.bestattorney.com for a free consultation.
Source: http://www.nbcsandiego.com/news/local/Tanker-Truck-Collides-with-Sedan-177108451.html