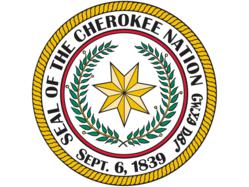 TAHLEQUAH, Okla. (PRWEB) November 07, 2012
The Cherokee Nation is coming to Arizona and New Mexico this weekend to issue citizens there the new Cherokee Nation tribal citizenship ID cards. Phoenix and Tucson, Ariz., and Albuquerque, N.M. are the latest cities the Cherokee Nation will visit outside of Oklahoma.
The tribe began issuing the photo ID citizenship cards, similar in appearance to a driver's license, on Oct. 1. So far, 3,767 cards have been issued in Oklahoma and 150 were issued in California last month. The Cherokee Nation is the largest tribe in the U.S. with more than 300,000 citizens, including nearly 20,000 in California, 4,400 in Arizona and 1,900 in New Mexico.
"Producing a government-issued, photo ID helps to instill a greater sense of pride in our people," said Cherokee Nation Principal Chief Bill John Baker. "I've presented my photo tribal citizenship card at several major airports, and even to the U.S. Secret Service, and experienced no problems whatsoever."
To offer the same service to out-of-state Cherokee citizens, Chief Baker asked that mobile units be purchased and dispatched to communities in states with large Cherokee populations.
Cherokee citizens can get their new citizenship photo ID cards at the following times and locations:
Saturday, Nov. 10
11 a.m. to 2 p.m.
Phoenix Indian Medical Center Conf. Room A&B
Phoenix
4212 N. 16th St.
5-8 p.m.
Pasqua Yaqui Neighbor Center
Tucson, Ariz.
785 West Saguaro
Sunday, Nov. 11
12:30 -4:30 p.m.
UNM Continuing Education Conference Center, Room C
Albuquerque, N.M.
1634 University Blvd., Northeast
More than a year of planning and design was required to transform the tribal citizenship cards, also known as "blue cards," into photo IDs. The tribe consulted with members of the Five Civilized Tribes and gathered input from other tribes that had upgraded to photo ID cards. The upgraded citizenship cards still feature a citizen's Cherokee Nation registration number and official registrar signature but have been upgraded to include the citizen's photo and signature, Principal Chief's signature and a distinctive Cherokee Nation seal hologram for validation. Citizens may also opt for their official Bureau of Indian Affairs Certificate Degree of Indian Blood (CDIB) on the back.
Children 12 and younger can get a new photo blue card but must have a parent or legal guardian present to sign the card. Upgrading to a photo ID is free. At-large citizens should bring a valid ID and previously issued citizenship or CDIB card, if available.
For more information contact the Cherokee Nation Registration Department at 918-458-6980 or registration@cherokee.org.
-30-
About Cherokee Nation
The Cherokee Nation is the federally recognized government of the Cherokee people and has inherent sovereign status recognized by treaty and law. The seat of tribal government is the W.W. Keeler Complex near Tahlequah, Okla., the capital of the Cherokee Nation. With more than 300,000 citizens, over 8,000 employees and a variety of tribal enterprises ranging from aerospace and defense contracts to entertainment venues, Cherokee Nation is one of the largest employers in northeastern Oklahoma and the largest tribal nation in the United States.
To learn more, please visit http://www.cherokee.org.