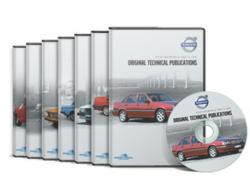 FCP is the only place these manuals are currently available in the USA
Old Saybrook, Connecticut (PRWEB) November 12, 2012
April 23, 2012 – FCP Euro president Nick Bauer announced today that the company will immediately have available all Volvo technical shop manuals for models prior to 1999 through the FCP Euro website. The addition of these Volvo cover manuals to the FCP Euro lineup will allow the company to provide an even greater degree of choice, as, at this poing, FCP is the only place these manuals are currently available in the USA, further highlighting FCP's priority on giving the customer an even better experience.
When making the announcement, Bauer noted FCP's reputation for quality and service, stating, "Not only is FCP the only place to get these Volvo Technical manuals, but we carry a large variety of them, including, the 122 Series, 1800 Series, 140 / 160 Series, 240 / 260 Series, V90 Series, and 850 Series and more. We're also selling these manuals at $49.95, which is just about as low as you could ever price them."
By directly selling these Manuals, including the Volvo 850 Shop Manual and the Volvo 240 Shop Manual, FCP Euro can ensure that its customers enjoy the most diverse variety of information, by furthering the commitment to customer service through with even more information on Volvo vehicles. FCP Euro specializes in providing the most comprehensive array of OEM auto parts for Volvo, Mercedes, BMW, Volkswagen, Audi and other quality European imports. ASE certified staff members are available to assist customers in selecting and installing the parts sold through the FCP Euro website.
About FCP Euro
FCP Euro is dedicated to providing the highest quality OEM auto parts at the lowest prices in the automotive marketplace. FCP Euro delivers BMW, Volvo, Volkswagen, Audi, Mercedes and Saab auto parts to its customers throughout the world. FCP Euro orders its parts direct from the manufacturer and ship from their warehouse in Old Saybrook, Connecticut. This allows FCP to pass the savings along to their customers and provide them with the best possible deals on the full range of European auto parts.