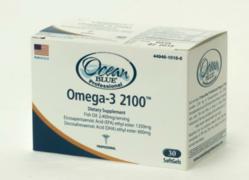 Each capsule contains over 1,000 mg of omega-3 and especially Eicosapentaenoic Acid (EPA) and Docosahexaenoic Acid (DHA)
Riviera Beach, FL (PRWEB) November 08, 2012
Sancilio and Company, Inc., a research- based biopharmaceutical company, announces a 30% discount for its Ocean Blue Professional Omega-3 2100® Travel Package. Intended for consumers who frequently travel, these capsules are individually packaged into clean, water-proof blisters that are easily carried in luggage and remain fresh for over two years! Since each capsule contains over 1,000 mg of omega 3 and especially Eicosapentaenoic Acid (EPA) and Docosahexaenoic Acid (DHA), one Travel Package can meet your healthy heart requirements for up to a month's worth of traveling.
This is a limited time offer. A 30 day supply of concentrated Omega-3 EPA/DHA is being offered for $10.49, a 30% discount off the normal retail price at http://www.oceanblueprofessional.com.
Our pharmaceutical grade Ocean Blue® Omega-3 products are developed and manufactured in the USA and contain the most potent concentration of EPA and DHA available without a prescription. EPA and DHA are clinically tested nutrients that our body needs to maintain a healthy heart. According to the American Heart Association, EPA and DHA benefit the heart of healthy people, and those at high risk of — or who have — cardiovascular disease. Research has shown that EPA and DHA may decrease the risk of arrhythmias (abnormal heartbeats), which can lead to sudden death*. Ocean Blue Professional Omega-3 EPA and DHA capsules have been clinically tested to help maintain healthy triglyceride levels and have no unpleasant side effects like fishy taste and foul smelling odor. They are gluten, sugar, lactose and dye free.
Ocean Blue® products are manufactured and distributed by Sancilio and Company, Inc. (SCI), a research-based biopharmaceutical company founded by CEO, Frederick Sancilio, Ph.D., located in Palm Beach County, Florida. SCI is focused on the development, manufacture and commercialization of EPA and DHA-based products that incorporate highly refined Omega-3 fatty acids and utilize proprietary Advanced Lipid Technologies. This technology includes the formulation of an appropriate ratio of EPA and DHA, as well as a combination of super critical chromatography, molecular distillation, winterization, decolorization and deodorization (smell and taste elimination) techniques that increase the efficacy of lipids by improving their purity and bioavailability as well as patient compliance.
*The USFDA has not reviewed or approved these statements. This product is not intended to treat or cure disease and is offered as a nutritional supplement under 21CFR111. This product is not a generic form of any prescription product. This offer is subject to local, state and federal regulations and is invalid if in conflict with any law.