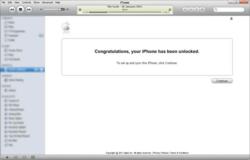 all iOS versions are supported for unlocking including the latest iOS 6.0 Version.
New York, NY (PRWEB) November 07, 2012
With the advent of Apple's unintentional price leakage of the "iPhone 5 factory unlocked" users scramble to find out how they could access this or any iPhone unit (iOS 6, 4S, 4, and others). Apple has leaked prices that range from $649 to $849 which depends on the memory space. Consumers must not wait too long because UnlockAnIphone.org offers the best solution instead.
A Plug and Play hardware unlock is brought to users by UnlockAnIphone.org. With the Gevey ULTRA S V2 SIM card, one can be able to unlock, specifically, an iPhone 4S having a 6.0 software version and below. The website reveals that the SIM card does not really need any difficult software. Therefore, anyone can use this as better alternative rather buying an unlocked iPhone in the market.
Good news for iPhone 5 users as well because UnlockAnIphone.org states that "all iOS versions are supported for unlocking including the latest iOS 6.0 Version." This does assure that the factory unlock iPhone 5 is fully accessible and supported as well.
In addition, the hardware assures no voiding of Apple warranty. Simply, after placing the Unlock SIM in the SIM tray, at once, one has fully unlocked for the access or use of any network.
The website also features a demo video to further give ease to iPhone users who do not want to get stuck in their contract.
The latest update of the website is the availability of the iPhone IMEI Unlock-Permanent factory unlock as well. Also, it has opened the factory unlock Resellers Area.
On the one hand, the iPhone 5 GSM version can work on USA's T-Mobile network. Though, this network is known to have a slow connection in other places. But actually, iPhone 5 is now welcomed by T-Mobile to its network. In its stores, there are demonstration models for interested consumers.
It is still not clarified if Apple might sell the unlock version leaked in its website. However, a source of this version is available in UnlockAnIphone.org, so no worries for excited users. Others can actually now buy an unlocked iPhone but for people who already have iPhones, they can easily contact the website and start using the unlock solution.
Meanwhile, for those wondering about the price of the unlock solution, consumers can visit the website: http://www.unlockaniphone.org/ or sales(at)unlockaniphone(dot)org to submit a pre-order. For inquiries, contact Pascal Smit at 13479137110 located at 244 5th Avenue, Suite 200 New York.