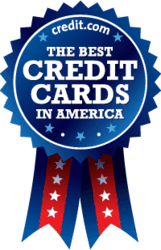 San Francisco, CA (PRWEB) November 08, 2012
Credit.com announces the winners of the latest installment of its best-in-class series, "The Best Credit Cards in America." This edition features the pick for the "Best Airline Rewards Credit Card."
"The Best Credit Cards in America" series gives users a peek at the most consumer friendly cards in the marketplace, examines a variety of credit card categories and designates the best cards within that group. The cards are rated and the winners are picked based on a unique formula of 41 separate metrics that compare costs and benefits. Given that the holiday season is coming up, the formula is especially helpful when it comes to looking at airline rewards cards.
The winner of the Best Airline Rewards Card in America is the Chase Sapphire Preferred card.
Among the reasons the Chase Sapphire Preferred card won, is the fact that new applicants can earn 40,000 Ultimate Rewards points after spending $3,000 within three months of opening an account. Cardholders then earn one point per dollar spent on most purchases, double points on travel and dining expenses, and triple points when they book their travel through Chase's web site. Finally, cardholders have access to award seats on all major carriers in the United States.
Read more about the features and costs of the Chase Sapphire Preferred Credit Card, along with descriptions of the runners up.
And read about previous winners in the series:
The Best Credit Cards in America: Travel Rewards
The Best Credit Cards in America: Cash Rewards
The Best Credit Cards in America: Airline Miles and Low Interest
The Best Credit Cards in America: Balance Transfer Cards
The Best Credit Cards in America: Student and Secured
Media Inquiries:
Michael Schreiber
Editor-in-Chief & Director of Communications, Credit.com
212.317.9179 x222 o (NY)
michael(at)credit(dot)com
@creditexperts
@schreibot
About Credit.com
Credit.com provides straightforward tools, news, products and educational resources to help consumers make smarter financial decisions. Use Credit.com's free Credit Report Card for an easy to understand overview of your credit, along with your free credit scores. Credit.com was established in 1995 with the goal of helping consumers with any credit standing to establish, build, enhance and effectively use credit. Our industry experts create clear paths for consumers looking to improve their finances.