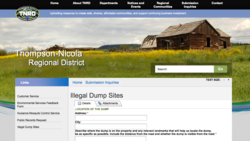 Now if someone wants to report a mosquito problem, illegal dumping or would like to make a public records request, you can do it right from TNRD.ca by filling out an online form. The request is then immediately directed to the correct department
Thompson Nicola Regional District, BC (PRWEB) November 09, 2012
The Thompson Nicola Regional District in partnership with iCompass Technologies is excited to unveil the regional district's new website.
The new look http://www.TNRD.ca website features an easier-to-navigate layout, a more powerful search engine and iCompass' InTouch Web & Mobile solution.
"Now if someone wants to report a mosquito problem, illegal dumping or would like to make a public records request, you can do it right from TNRD.ca by filling out an online form. The request is then immediately directed to the correct department," said iCompass President & CEO Todd Stone.
iCompass' InTouch Web & Mobile solution allows people to make their concerns known more easily 24 hours a day, 7 days a week. Everything is done electronically allowing the TNRD to respond faster and with greater efficiency.
"We felt it was time to give our website a fresh new look and make it easier for the general public to find what they are looking for," said Chief Administrative Officer Sukh Gill.
Serving over 400 local government, post-secondary, school district and other public sector customers across North America for over 14 years, iCompass provides CivicWeb and AcademicWeb, the leading web-based Meeting Management, Tracking and Records Management Solutions.
iCompass services streamline the entire meeting process within one system, while reducing paper consumption, utilizing "smart" templates and electronic approval processes and enabling the shifting of timesavings to tackle other priorities.
For Media Inquires:
Todd Stone
iCompass President & CEO
250-851-9401 (Ext.120)
tstone(at)icompasstech(dot)com
Mike Garrett
TNRD Communications Coordinator
250-377-6282
communications(at)TNRD(dot)ca