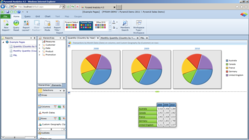 As a specialist Business Intelligence company, we look to work with those tools which add value to each technology platform.
(PRWEB) November 08, 2012
In response to increasing demand for its SQL Server Analysis Services (OLAP) BI platform in Europe, Pyramid Analytics is developing a partner network across the region and is delighted to announce its partnership with Thorogood Associates Ltd. Headquartered in the UK, Thorogood Associates also has offices in the USA and an offshore development centre in India.
"Thorogood has a long history in delivering global Microsoft Business Intelligence solutions, particularly in the CPG, Financial Services and Pharmaceuticals sectors. I've enjoyed working with them on such programmes from the early ProClarity implementations in the late 1990s through to today's modern Pyramid Analytics solution in combination with Microsoft's Analysis Services platform. As Thorogood is the only UK firm represented on Microsoft's Business Intelligence Partner Advisory Council, it is an ideal firm to work with us" said Steve Cowell, Regional Head, UK & Ireland at Pyramid Analytics.
Julia Honigsberger, Director of Thorogood Associates, said "As a specialist Business Intelligence company, we look to work with those tools which add value to each technology platform. The Pyramid Analytics BI Office Suite product set fills an important gap in the Microsoft BI stable and we look forward to introducing it to those of our customers who have invested in Microsoft as part of their IT infrastructure."
Commenting on the appointment of Thorogood, Omri Kohl, CEO at Pyramid Analytics, said "Thorogood has an impressive reputation in the BI market and we are delighted to welcome them into our Worldwide Partner Programme. The team is strong across the whole development and support life cycle and we look forward to accessing these skills on Pyramid Analytics' BI programmes."
About Pyramid Analytics
Pyramid Analytics delivers intuitive enterprise level Business Intelligence through an integrated, rich and highly scalable dashboard and analytic application for all types of business users. Using Microsoft's Office concept, the BI Office suite is custom designed for Microsoft SQL Server and Analysis Services and is accessed through a single, web-based familiar interface.
Pyramid Analytics has a Microsoft ISV BI Gold Competency and is headquartered in the Netherlands with operational centres in Israel, the EU and the USA.
About Thorogood Associates
Thorogood is a global independent Business Intelligence and Information Management specialist with offices in London, New York, Philadelphia and Bangalore. We have been delivering Business Intelligence capabilities to leading global blue-chip clients since 1987 and have world class references focusing on the CPG, Financial Services and Pharmaceutical sectors. Together with our long-established expertise in the BI sector and close alliances with best-of-breed software providers, Thorogood is ideally positioned to provide a full customised service offering from BI strategy, system development and support to data management and system hosting.
For more information contact:
Jane Beazley, Marketing and PR Officer, Pyramid Analytics
+44 1628 918 102 and jane(dot)beazley(at)pyramidanalytics(dot)com
Julia Honigsberger, Director, Thorogood Associates
+44 208 231 0802 and Julia.honigsberger(at)thorogood(dot)com