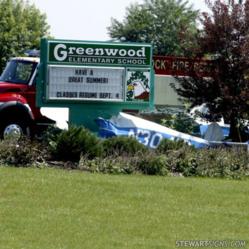 We are proud of the strength and durability of our products and we look forward to serving our customers for another 40 years.
Eric Keller
VP of Sales & Marketing
Woodstock, IL (PRWEB) November 20, 2012
Shortly after takeoff from Galt Airport, IL a single engine Aircoupe suffered mechanical problems. The pilot, thinking he could limp his wounded craft back to the airport, attempted a 180-degree turn. He lost too much altitude and hit the ground outside Greenwood Elementary, coming to an abrupt stop when the aircraft struck Greenwood's sign. Fortunately both pilot and passenger walked away, but the airplane was severed in half. The sign, standing guard over the school like a stone sentinel, escaped unscathed.
Stewart Signs, maker of outdoor signs for schools, churches, businesses, municipalities, and the military touts its product's durability and strength. The company points to the plane crash as the hallmark of its claim. However, their signs have withstood many other tests against the elements, the latest example from super-storm Sandy that ravished the east coast.
Bridgetown, NJ, in Sandy's direct path, used its LED sign to alert the public of critical information. It served its purpose throughout the storm. "All in all the sign held up very well, and it was part of our overall public information effort," said Kevin Rabago, Special Assistant to the Mayor of Bridgetown. "A sturdy piece of equipment indeed."
Years earlier a Stewart sign held up to Hurricane Katrina, emerging from three weeks under water completely undamaged. Its LED letters shined brightly with pre-storm information. Another sign remained standing after a devastating F4 tornado in Missouri.
"Stewart Signs has been designing and building high quality outdoor signage products for over four decades," said Eric Keller, Vice President of Sales and Marketing. "We are proud of the strength and durability of our products and we look forward to serving our customers for another 40 years."
No Stewart Signs customer expects that an airplane, meteor, or any other one-in-a-million phenomenon would strike its sign. But storms are inevitable, and customers who rely on Stewart Signs to construct a major marketing tool, something symbolic of the entity it represents, can face the danger confident their sign's structure will stand firm.
About Stewart Signs:
Since 1968, Stewart Signs has been providing quality signage to organizations across America. With over 35,000 satisfied customers, Stewart Signs has proven to not only meet but exceed its customers' high expectations. Stewart Signs is a division of EBSCO Industries, one of the top 200 privately held companies in the United States. Contact them today about a sign for your organization at 1-800-237-3928 or online at http://www.stewartsigns.com.