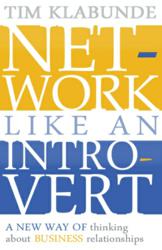 For years, we have been told that extroverts are better networkers than introverts, and there is no doubt that would be true if networking was about collecting business cards. But network isn't about business cards,; it's about building relationships.
(PRWEB) November 12, 2012
Can introverts be better at networking than extroverts? The answer is "yes," says Tim Klabunde, who has proven that networking success is far more than than mingling and exchanging business cards in crowded rooms.
Introverted Tim Klabunde has discovered that effective networking does not require an extroverted personality. He has built a network of more than 40,000 supporters within the architectural, engineering and construction community throughout the U.S. by applying the book's easy-to-follow concepts.
Klabunde has used the principles outlined in his recently-released book, Network Like an Introvert, to build an online and in-person network of more than 40,000 people, through the Design and Construction Network (mydcn.com). His 90-page book has achieved best seller status within Amazon.com, with enthusiastic reviews. The reason: He advocates a simple and easy-to-understand (and highly natural) approach to networking that you can easily apply in your day-to-day life.
"There was nothing I hated more than being sent into an industry event with the expectation that I would bring back work for the company. It was a nightmare, even when I thought I was doing everything 'right'," Matt Handal, a Philadelphia-based engineering business development manager, wrote in an Amazon review. "I was skeptical that this material could actually help me. Frankly, I had come to accept that introverts couldn't be successful in this area. Boy, was I wrong!
"By changing the way I thought about networking, Mr. Klabunde's solution literally changed my life," Handal wrote. "And I've brought in hundreds of thousands of dollars of fees from new clients since adopting his approach. I'm no book critic, but I can say it worked for me."
Other generally positive reviews have been posted on the Amazon.com book site.
The book, published by Asset Beam Publishing Ltd. which publishes the Construction Marketing Ideas blog, is available through Amazon.com and other online retailers.
Tim Klabunde will be in the Washington D.C. area on Tuesday, Nov. 13 for a presentation to the Associated Builders and Contractors metropolitan Washington chapter.
Further information:
Media Inquiries, and to arrange an interview with Tim Klabunde, email Mark Buckshon at buckshon(at)cnrgp(dot)com or phone (888) 432-3555 ext 224.