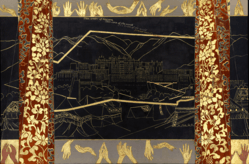 "Through understanding the history and beauty of these great cities that have suffered strife, we can participate in the beauty of recovery and peace," said Ellen Frank.
New York, NY (PRWEB) November 08, 2012
Resource Furniture is proud to honor the Ellen Frank Illumination Arts Foundation (EFIAF) with a limited exhibition of CITIES OF PEACE® in their New York City showroom. The exhibit will launch with an opening reception on Wednesday, November 14 from 6 p.m. – 8 p.m., and will run through the end of the year.
CITIES OF PEACE is a commemorative body of work conceived by New York artist Ellen Frank and produced at her East Hampton Illumination Atelier, with trained interns and scholars from around the world. Honoring cities either in the midst of crisis or in different stages of cultural restoration, the suite features Baghdad, Beijing, Hiroshima, Jerusalem, Kabul, Lhasa, Monrovia, New York, and Sarajevo.
The monumental gold-illuminated paintings from EFIAF are dedicated to the transformative power of art to build a world culture of peace and hope. The Resource Furniture-hosted exhibit will feature three of the nine 6' x 8' works. CITES OF PEACE marries word and image in the great tradition of illuminated art, evoking artistic traditions as diverse as lighted manuscripts, religious icons, tapestries, embroidery, architectural mosaics, woodcarvings, and metalwork. While serving as memorials, the paintings are also intended as to serve as border crossings that enable visions of greater compassion and heightened consciousness among peoples.
"Through understanding the history and beauty of these great cities that have suffered strife, we can participate in the beauty of recovery and peace," said Ellen Frank.
The CITES OF PEACE TREASURE SUITE will also be on display for the duration of the exhibit. The TREASURE SUITE is an intimate, limited edition of hand-illuminated prints that are available elegantly boxed with Asahi silk and 24-karat gold lettering by Vogel Bindery. Each 13" x 13" piece is based on one of the nine CITIES OF PEACE paintings. They are available for purchase individually or as a boxed set.
About EFIAF
The Ellen Frank Illumination Arts Foundation, Inc., a not-for-profit corporation, was formed in June 2004 to revitalize passion for and public awareness of the art of illumination to build a global culture of peace and understanding, in part through education and training at the unique Illumination Atelier. Modeled after the Renaissance atelier (studio), the Illumination Atelier is the first of its kind in the United States. Apprentices and interns from more than 20 countries have had the opportunity of working directly on the illuminations and are fully supported by the organization during their stay at the Atelier.
In the face of international and domestic crises, EFIAF's vision, programs and projects testify to the strength of the collaborative artistic enterprise to bring forth positive social change. For more information email info(at)efiaf(dot)org
About Resource Furniture
Resource Furniture has built a global network of showrooms and licensing partners equipped with a range of top-selling lines of luxury European furniture dedicated to redefining the use of space and pushing the limits of technology and design. Since 2000, Resource Furniture has imported and distributed inspired, modern furniture from the finest and most innovative European designers. Every piece in the Resource Furniture collection is hand-selected for its ability to transform a space with both beauty and functionality. For more information, visit one of the showrooms in New York, Toronto, Vancouver, Victoria, Montreal, Hong Kong and opening in Calgary in Fall 2012 or on the web at http://www.resourcefurniture.com.
High resolution images, interviews and B-roll footage of "The Making of CITIES OF PEACE available on request.
*Image Credit
Lhasa:10 Directions (69" x 104")
22 karat gold leaf, egg tempura on Belgian Linen
Framed by two gold-leaf pillars inspired by columns at the Jokhang monastery, one of the oldest monasteries in Tibet, the painting uses motifs from mudras (sacred hand positions and forms of gestured communication thought to be more powerful than the spoken word) as a border pattern.