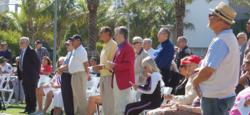 Sunny Isles Beach, Florida (PRWEB) November 08, 2012
The City of Sunny Isles Beach invites residents and visitors to attend the City's Annual Veterans Day Celebration on Sunday, November 11th beginning at 9:30 am at Heritage Park (19200 Collins Avenue).
Each year on Veterans Day, the names of Sunny Isles Beach residents, both past and present, that have selflessly served the United States of America through the Armed Forces, will be added to the Memorial Wall. These residents will be honored at the Veteran's Day Celebration.
Mark your calendar to join us at Heritage Park at 19200 Collins Avenue on Veterans Day, Sunday, November 11, 2012 at 9:30 a.m. Be sure to wear your red, white and blue as we celebrate those that have given so much for the freedoms that we all enjoy. This year's event will include special presentations from the students of Norman S. Edelcup SIB K-8 School, as well as local Girl Scout Troops, to honor those that have served. Light refreshments will be served after the ceremony.
Parking for this event will be available in the garage at Heritage Park and under the Lehman Causeway. For event information, please contact the Cultural & Community Services Department at 305.792.1706.