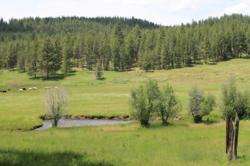 Our seller recognizes the value of using an accelerated method of marketing – in other words, an auction – to sell their property
Bend, OR (PRWEB) November 08, 2012
Qualified buyers will have the opportunity to purchase one of the last remaining large blocked privately held timber and recreational properties in Oregon. These 18,000± acres of land are located 35 miles north of Prineville, Ore., and will be offered to the public in three separate tracts and in its entirety during a multi-tract auction.
Conducted by Mason & Morse Ranch Company of Glenwood, Colo., in conjunction with United Country – Redfield Group Auctions, Inc. of Gadsden, Ala., the live auction will take place at the Phoenix Inn Suites located at 300 NW Franklin in Bend, Ore. The auction will begin at 4 p.m., and registration for the event will start at 3 p.m. Auction representatives will be on-site at the auction office Friday, Nov. 27 through Tuesday, Dec. 4 from 10 a.m. to 5 p.m. daily.
Tract #1 consists of 16,980± timbered acres, which provides an excellent elk habitat. It features several springs, year-round streams and creeks. The timber is predominantly Ponderosa pine with some Douglas Fir. It also has all-weather interior roads, a cabin and adjoins the Ochoco National Forest. This acreage has provided leased hunting rights to same outfitter for 20 years.
Tract #2 has 1,000± fenced acres of recreation land with healthy Ponderosa Pine. This acreage includes a year-round stream, 40± acres of meadows and 26± acres of water rights.
Tract #3 features 640± acres of grazing ground and some timber. There are 100± acres of meadow ground with grass and abundant water, 165± acres of water rights and roughly half mile of Ochoco creek frontage.
"Our seller recognizes the value of using an accelerated method of marketing – in other words, an auction – to sell their property," said Bart Miller, managing broker, ALC and a principle owner of Mason & Morse Ranch Company, affiliate of United Country Real Estate. "What does this mean for buyers? It means they have the opportunity to purchase part or all of a great Oregon land holding before the end of the year. Today's market conditions and the auction format allow sellers and buyers to come to a meeting of the minds quickly with a competitively achieved fair market value. In times like these, an auction is the best way to establish what real market value is."
Detailed information about the property for sale, as well as details about the auctions, can be found online at http://www.ranchland.com/auctions.
About Mason & Morse Ranch Company
"Ranch &Land Sales" – http://www.ranchland.com, affiliate of United Country Real Estate, is a leading provider of ranch & land marketing services across the western United States. Founded in 1998, in the Roaring Fork Valley of Colorado, the company specializes in the sale of premier f ranches and recreational land across the western United States. Combined, Mason & Morse Ranch Company agents offer their clients more than 133 years of experience western ranch and recreational real estate sales. Recently recognized by The Land Report as one of America's Top Brokerages. "Winter Edition - 2012 Year End Review Featuring America's Top Brokerages."
Mason & Morse Ranch Company - affiliate of United Country is separately owned and operated from Mason Morse Real Estate of Aspen, Colorado
About United Country
United Country Real Estate is the largest fully integrated network of conventional and auction real estate professionals in the United States and Latin America. The company has been an innovator in real estate marketing since 1925. United Country supports nearly 550 offices across the U.S., Costa Rica, Panama and resort areas of Mexico, with a unique, comprehensive marketing program that includes one of the largest portfolios of property marketing websites (more than 3,500 separate sites and traffic of approximately 3 million visitors per month), multiple United Country real estate catalogs with national distribution , an extensive buyer database and national advertising of local properties that reaches more than 90 million homes per week. United Country has recently been recognized by Franchise Business Review, AllBusiness.com, The Land Report, Entrepreneur and The Wall Street Journal as one of the top U.S. real estate companies.