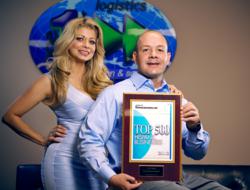 Passion and positive thinking can take you very far.
(PRWEB) November 08, 2012
1 Trade Logistics has accepted it's position as number 383 on the Hispanic Business Top 500 Directory published by HispanicBusiness.com, earning $6M in annual revenue in 2012. Their induction signals the continued growth of the 3rd Party Logistics (3PL) industry and the value this sector is providing within the transportation and logistics community. For owners Juan and Sol Arango, it started with big dreams, faith, and a little personal savings.
July 2005. Juan and Sol Arango had just announced the birth of their youngest daughter in February, when they turned to family and friends and said, "We're starting a logistics company." Juan was working in the industry when he saw an opportunity to provide greater value to his clients. He wanted to open a third party logistics company (3PL). Of course, there were concerns. They had a newborn baby, a teenage daughter, a mortgage, and bills. He saw a great opportunity, but he already had a good job and was concerned that the risk may not be worth the reward. He brought the idea to his wife, Sol. She surprised him with her response: "We have to do it."
Sol Arango was born and raised in Bucaramanga, Colombia where she studied psychology before moving to the US in search of greater opportunities. "I've done many things - from product sales to service positions to entertainment," she recalls, smiling. Most notably, she once walked into a large open casting for Univision Radio without any experience and got a job as a morning show DJ. She worked there for two years before that led to on-screen TV promotions for Telemundo. After that, she launched a Latin restaurant in North Dallas before selling her shares in 2005. She explains, "When you want the most out of life, you can't be afraid to try new things. Passion and positive thinking can take you very far."
Sol says it was a no-brainer when her husband explained the business concept for 1 Trade Logistics. "I knew how smart Juan was, and I instantly recognized the business potential." She was excited about a business model that was predicated heavily on customer service and sales. "Juan and I are both passionate about people and we knew we could do this better than anyone else. He just needed someone to push him past that scary place right before you jump." Juan explains that her support has been ongoing: "She encourages me every day, unconditionally. Whenever we've had a tough decision to make or a risk to take, she's right there to help make the big decision. We couldn't have started this company without each other. We're a really good team."
After seven years of operation, 1 Trade Logistics is continuing to "make it happen" as they celebrate their induction into the Hispanic Business Top 500. Currently, Sol is involved with client and public relations as President of 1 Trade Logistics. Juan actively manages day-to-day operations as Vice-President of Operations.
About 1 Trade Logistics
1 Trade Logistics is a premier, full-service transportation and logistics company based in Dallas / Fort Worth, TX that provides expedited freight forwarding,logistics management, supply chain solutions, and an international courier service. 1 Trade Logistics is a member of the World Cargo Alliance (WCA), carries a Minority/Women Business Enterprise (M/WBE) and TSA Certification, and is fully licensed through the FMC, IATA, and NVOCC to name a few. Learn more about their transportation and logistics services in Dallas / Fort Worth at 1tradelogistics.com.