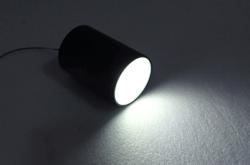 ENERGY STAR qualification will enable our customers to save even more money by upgrading to Noribachi LED lighting.
Los Angeles, California. (PRWEB) November 08, 2012
Noribachi, a premier U.S. based LED lighting and engineering firm, partners with ENERGY STAR to qualify their popular DOWNLIGHT.S LED luminaire.
The EPA's ENERGY STAR program qualifies energy-efficient products using stringent quality and efficiency testing standards; only those products that are verifiably excellent in performance may display an ENERGY STAR label. Noribachi's newly ENERGY STAR qualified DOWNLIGHT.S reinforces the company's range of market leading, rebate qualified LED lighting.
Noribachi already commands an expansive presence on the Design Lights Consortium Qualified Product List, with over four hundred and fifty LED luminaires and LED light engines available for nation-wide commercial utility rebates. The addition of ENERGY STAR qualification to Noribachi's DOWNLIGHT.S allows customers interested in using the company's single hexagonal lightboard to be eligible for even greater financial savings.
The DOWNLIGHT.S and single hexagonal lightboard have seen enormous success in applications ranging from interior office lighting to outdoor walkway illumination. One of the company's top-selling products, the single hexagonal lightboard is an incredibly versatile LED lighting solution.
"Noribachi's commitment to the highest quality energy efficient products is the hallmark of the company. Receiving the recognition from ENERGY STAR is great because it not only affirms the performance of our lights, but will also help a significant amount of our customers save money while still upgrading to the best LED lighting on the market," says Esther Santos, VP of Sales at Noribachi.
ABOUT NORIBACHI
Noribachi is a premier US-based LED lighting engineering firm. Noribachi is dedicated to principles of efficient use of energy through LEDs, solar power, and sophisticated control systems.
Noribachi embraces the idea of artisan manufacturing with products crafted of premium components and hand assembled in Noribachi's Los Angeles, CA manufacturing headquarters. Noribachi marries traditional insistence on quality with the lighting technology of the future in designs that emphasize engineering rigor and attention to minute details.
Noribachi's modular light engines provide scalable solutions to convert any existing luminaire to LED, via either retrofit or new fixture integration. Noribachi's industry leading technology incorporates the highest quality, highest lumen LEDs with custom designed lightboards, drivers and heat sinks for exceptional performance.
Independently tested by Intertek and fully certified, Noribachi's LED products have passed the most demanding test of all: customer satisfaction. With over 8,000 completed projects – including world class hotels and luxury automobile dealerships – representing a diverse variety of markets across the US and internationally, Noribachi drives the lighting industry forward, defining trends with passionate devotion to integrity, quality, and design.
Noribachi is a privately held company with offices in Los Angeles, CA and Albuquerque, NM. For more information please visit noribachi.com.
ABOUT ENERGY STAR:
ENERGY STAR is a joint program of the U.S. Environmental Protection Agency and the U.S. Department of Energy helping us all save money and protect the environment through energy efficient products and practices.
The ENERGY STAR program has been instrumental in identifying cost-effective, innovative solutions for reducing GHG emissions since it was launched by EPA in 1992. This voluntary program has boosted the adoption of energy-efficient products, practices, and services through valuable partnerships, objective measurement tools, and consumer education. EPA will continue to dismantle barriers to widespread energy efficiency through ENERGY STAR by serving as a trusted source of unbiased information that helps consumers and businesses make choices that are good for the environment and the economy.
For more information please see, http://www.energystar.gov/.
###