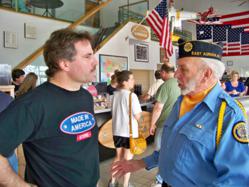 (PRWEB) November 08, 2012
A Veteran's Day observance has become a tradition at the Made in America Store, in Elma, NY, where "it's all about the American soldier", as well as the American worker.
As he does every year, this Veteran's Day weekend, November 10th and 11th, owner Mark Andol will "roll out the red carpet" for America's veterans and active military personnel, including the National Guard and Reserves.
Those military families will receive a 10% discount on all purchases, just as they do throughout the year. Plus, during the lunch hour, 11am to 3pm, they'll be entitled to a free hot dog and soft drink. In addition, Vets can enter a contest to win free Yuengling Beer for a year.
There are some special offerings for other customers, as well, including a sale on the store's 3 by 5 foot American flags, which will be priced at just $20 dollars, instead of the usual $30.
On Saturday from 11 to 3, Channel 2 Sports Director Ed Kilgore will make a special appearance to sign copies of his new book, "As I've Seen it: Wide Right, No Goal, and Other Buffalo Sports Sagas".
The other great thing about spending this holiday at the Made in America Store is the sense of pride folks get from being able to buy 100% American-made products.
Don't be surprised if you meet a military veteran face-to-face during this two day observance, because a great many shop here. If you do, be sure to say "Thanks for your service". After all, that's what the event is really all about!
The Made in America Store is located at 900 Maple Street in Elma, NY, and online at http://www.MadeInAmericaStore.com.