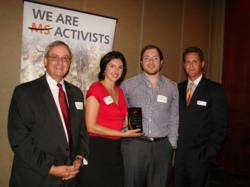 It is important for Atlantic Bay to support organizations that are dedicated to helping our communities and those who are in need.
Virginia Beach, Virginia (PRWEB) November 09, 2012
Atlantic Bay Mortgage Group (http://www.atlanticbay.com), a regional VA, FHA and reverse mortgage lender, has been named the recipient of the 2012 Corporate Services Award from the National Multiple Sclerosis Society, Hampton Roads Chapter. The award is given to organizations that play a critical role in support the MS Society's mission. Atlantic Bay was recognized for the years of continuous support and their extensive fundraising efforts across the Commonwealth of Virginia. Accepting the award on behalf of Atlantic Bay were Emily Farley, Vice President of Business Development and Jarrett Stanley, a member of the marketing department.
"It is such an honor to contribute to a wonderful organization," stated Brian Holland, President. "At Atlantic Bay, we are committed to supporting our communities, especially those who are inflicted with such a debilitating disease. It is our hope that one day we will find a cure for MS and until a cure is found, we will continue to do our part in helping to find that cure."
Every year Atlantic Bay conducts a variety of fundraising events to raise donations. In addition to their fundraising efforts, Atlantic Bay also participates in the annual MS Walks statewide.
About Atlantic Bay Mortgage Group
Founded in 1996 by Brian Holland, Atlantic Bay is one of the largest privately held mortgage companies in Virginia. Atlantic Bay provides residential mortgages in 8 states, including government-insured FHA loans, government-insured VA loans for active-duty, retired and former military members, conventional home loans, rural housing loans, jumbo home loans, FHA 203K rehab loans, and reverse mortgages. Headquartered in Virginia Beach, Virginia, Atlantic Bay has more than 30 offices across Virginia, North Carolina, South Carolina, Florida, West Virginia, Tennessee, Maryland and District of Columbia. Atlantic Bay has been recognized as a Top 100 Mortgage Company in America, Best Mortgage Company, Most Enjoyable Place to Work, Best Reverse Company, Inc. 500 Fastest Growing Company, a Virginia Fantastic 50 company, and a Roaring 20's company. With many mortgage programs available, Atlantic Bay finances millions of mortgage dollars every month. Atlantic Bay is actively seeking mortgage bankers and operations staff to join our expanding network across the Southeast. An equal housing lender and equal opportunity employer, Atlantic Bay Mortgage Group LLC is licensed by the Virginia State Corporation Commission, license #MC-936, nmls #72043. For additional information, please visit atlanticbay.com.