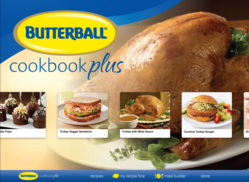 (PRWEB) November 08, 2012
Publications International, Ltd. (PIL), creators of the award-winning iCookbook™ app, are proud to announce the release of Butterball® Cookbook Plus.
For more than 50 years, the Butterball® brand has been synonymous with holiday tradition. Today, America's No. 1 brand of turkey expands its line of poultry-related products into the digital world with the Butterball® Cookbook Plus app. Just in time for the Thanksgiving holiday season, Butterball® Cookbook Plus arrives, featuring hundreds of mouth-watering recipes for main dishes, salads, and sides that feature Butterball® turkey or turkey products as their main ingredient.
Beyond recipes, Butterball® Cookbook Plus also offers users the ability to save and store their own personal recipes, as well as access free downloads of new recipes from Butterball® each month. Additional features include, iCookbook's™ hands- free Voice Command technology, which makes preparation a breeze as users can advance pages of their recipe without ever having to touch the screen. Butterball® Cookbook Plus also offers access to helpful how-to videos on topics such as choosing your turkey, roasting it, and carving it. And it features articles from Butterball experts with insights on roasting schedules, brining suggestions, a "Golden Thursday" checklist, and even the best way to deep-fry a turkey.
Butterball® Cookbook Plus is the second app to be built on the iCookbook™ platform, following the Johnsonville Kitchens app released earlier this year. Butterball® Cookbook Plus can be found in the Food & Drink section of iTunes® for a special launch price of $4.99.
About Publications International, Ltd.:
Publications International, Ltd. (PIL) is one of North America's leading publishers of cookbooks, with more than 400 active cookbook titles and more than 50 recipe magazine releases annually. PIL's award winning iCookbook TM platform is available on Windows, Apple and Android devices.
About Butterball®, LLC:
As the most recognized name in turkey, the Butterball® brand represents more than 50 years of cherished memories with consumers globally. Our retail, deli, and foodservice products are distributed throughout the United States and in more than 30 countries worldwide. The tradition of providing top-quality, great-tasting products that make meals something to celebrate every day has made our brand an American favorite.
Headquartered in Garner, NC, Butterball® is the largest producer of turkey products in the United States. The company's three-pronged approach to doing business right focuses on self-governance, sustainability, and social responsibility. The initiative plays a key role in providing internal oversight for integrating values that are important to the company.