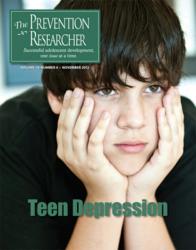 ... untreated depression is a leading cause of teenage suicide ...
Eugene, OR (PRWEB) November 13, 2012
"Teenage depression is a condition that continues to plague far too many of our nation's youth," says Steven Ungerleider, Ph.D., founding editor of The Prevention Researcher. "And, while depression itself is a concerning mental health problem, it is also a risk factor for other health, educational, and social problems, including suicide."
Today, depression is a widespread problem among adolescents. It has consequences for many areas of adolescent functioning, with untreated depression being a leading cause of teenage suicide.
In the current issue of The Prevention Researcher, researchers explore teenage depression, focusing on prevention and intervention as well as alternative treatments.
Kee Jeong Kim, Ph.D. provides an overview of the ecology of teen depression, including definitions and prevalence, warning signs, antecedents and resilient factors, and the consequences of youth depression. She concludes with a brief summary of the current state of research on youth depression that is applicable to practitioners' work.
In their article on "Ethnicity and Adolescent Depression," Amanda E. Wagstaff, B.A., and Antonio J. Polo, Ph.D. note that depression is more common among adolescents of ethnic minority backgrounds, who also are less likely to receive professional help. They present information about prevalence of depression and service use across ethnic groups, then outline several promising programs designed for adolescents suffering from depression that have documented success with youth of diverse backgrounds.
A wide range of factors have the potential to influence patterns of help-seeking by adolescents with depressive disorders. There is also evidence that adolescents with higher levels of depressive symptoms may be less likely to seek help than those with fewer symptoms. In "Help-Seeking by Young People with Depressive Disorders," Michael G. Sawyer, Ph.D., Alyssa C. P. Sawyer, Ph.D., and Annette M. La Greca, Ph.D. explore factors that influence youth's help-seeking and give suggestions for providing help.
In their article on "Teen Depression and Suicide: Effective Prevention and Intervention Strategies," Keith A. King, Ph.D., and Rebecca A. Vidourek, Ph.D. discuss the extent of and connection between teen depression and suicide, with specific emphasis placed on the importance of early detection of warning signs and risk factors, plus the development of positive social and emotional connections.
The final article by Terry D. McGlasson, Ph.D. notes that for many years now, cognitive behavior therapy and anti-depressant medications have been the primary treatments for adolescent depression. However, there are many youth today with mild to moderate depressive symptoms for whom these treatments are not necessary. His article briefly summarizes several alternative therapeutic approaches for treating adolescent depression.
For a preview of a digital edition of The Prevention Researcher on "Teen Depression," visit http://www.tpronline.org.
About The Prevention Researcher
Founded in 1994, The Prevention Researcher is published by the non-profit, Integrated Research Services in Eugene, Oregon. The quarterly journal focuses on successful adolescent development and serves professionals who work with young people in a variety of organizational settings.
Each issue of The Prevention Researcher covers a single topic, presenting the latest adolescent behavioral research and findings on significant issues facing today's youth. The journal provides information about programs that create supportive environments for youth, strategies for preventing problems affecting adolescents, and resources that help youth-serving professionals.