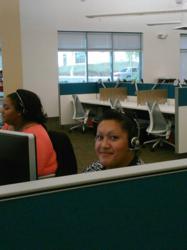 Las Vegas, NV (PRWEB) November 09, 2012
ResortCom International, LLC a leading provider of financial and resort operations services has joined the coalition of jobs4america (http://www.jobs4america.net).
With the September opening of its 120 seat call center in Las Vegas, NV ResortCom shifted its previous strategy of sourcing the call center through partnerships in Mexico City back to the USA. 36 people have been hired, including a management staff of 8 people.
"With millions of Americans looking for work and new broadband enabled technologies transforming the way call centers work, we are proud to be creating new jobs and opportunities for communities and families in the US, particularly at this point, Las Vegas," said Alex Marxer, President of ResortCom International.
ResortCom International is known as the top performer in Global Portfolio Management exemplified in healthy portfolios, low delinquencies and foreclosures. In addition to loan receivables servicing and portfolio management, ResortCom's Financial Services Division also specializes in Maintenance Fee Billing and Collections, Merchant Credit Card Services, Tax Withholding Trust Administration, Custodial Services and Lender Support. The international company provides services in many languages and currencies. It also has a Resort Management Division provides full hospitality management service to a number of brands, most notably LaTour Hotels and Resorts, with four- and five-star properties worldwide.
The call center is located in Las Vegas because of ResortCom's commitment to what they define as the "people side of customer service." For more than a quarter of a century ResortCom has developed a reputation of providing high touch service to its constituents. "The US-based call center will increase our ability to continue to listen and be flexible. Our technology is of the highest level to simplify these communications," said Alex Marxer, President of ResortCom.
ResortCom joins a powerful group of associations and companies who are committed to being a source of good jobs for Americans ready and willing to work in US based contact centers. Other coalition members include PACE, GryPhone Global, Prosperity America, Inc., CTC TeleServices, OneTouch Direct and Unicom to name a few.
ResortCom International's current client list includes: Grand Regina Cabo San Lucas, Margarita Real Hotel Boutique and Resort, El Cid Resorts, Grand Solmar, Occidental Vacation Club, Park Plaza Resort, Playa Grande Resort and Spa, Raintree Vacation Club, Universal Vacation Club, Viva Vacation Club, Villa La Estancia Resort, Velas Vallarta, Bahia de Principe Avalon Vacation Club, Royal Holiday/Costamex and The Villa Group, to name a few. ResortCom International's International Headquarters are located at: 404 Camino Del Rio South, Fourth Floor, San Diego, CA 92108. The company has offices in Las Vegas, Mexico City, Sao Paulo, Brazil, Phuket, Thailand and San Francisco. For more information about ResortCom International: http://www.resortcom.com.