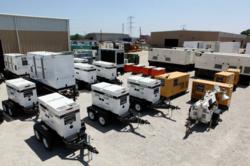 "During Superstorm Sandy, more companies than necessary suffered business disruptions, precisely at the time their customers needed them," said WPP Executive VP Mark Lum.
(PRWEB) November 07, 2012
Worldwide Power Products (WPP), a power-generation equipment provider to industrial clients worldwide, today released tips for businesses who are still operating without power or whose tenuous power supply may be disrupted by the incoming Nor'easter.
"During Superstorm Sandy, more companies than necessary suffered business disruptions, precisely at the time their customers needed them," said WPP Executive VP Mark Lum. "Many firms didn't have a plan for standby power, and others who had standby generators experienced failures that left their backup power source unavailable."
Lum, who noted that as many as 30% of backup generators fail to perform when needed (as reported by the Electric Power Research Institute), said lack of information regarding testing, maintenance and the availability of alternatives to permanent standby generators left many business owners without power after Sandy. Simple solutions would have enabled them to avoid going dark. Lum's tips include:
1. Standby Doesn't Have to Mean Permanent. Many firms who cannot avoid the cost of a permanent standby generator assume that they're out of luck in the event of a natural disaster or other power outage. However, many companies offer contingency rentals that enable firms to reserve generators and pay for them only upon use. "With WPP's standby generator program, customers can even store the generators on their site, yet pay a low, standby rate until they actually use the generator," said Lum.
2. Don't Assume it's too Late to Order a Rental Generator. Although delivering a rental standby generator in the height of a storm often isn't possible, companies such as WPP can deliver generators with as little as four hours' notice, in advance of an event. Companies don't have to plan months' ahead to have standby power on their sites.
3. Maintenance Related Failure is not Inevitable. Lum said WPP hears almost daily from generator owners that lack the resources or knowledge to manage their generator's routine maintenance requirements and as a result have suffered a failure. They don't realize that companies ranging from generator manufacturers to third-party firms like WPP offer affordable, on-site maintenance and testing programs to ensure generators work when they're needed. "Companies that think a rarely used generator needs less maintenance are making a grave mistake," says Lum. "In reality, the opposite is true."
With a Nor'easter barreling down upon the area stricken by Superstorm Sandy, it's inevitable that the suffering of area businesses and residents will only increase, Lum noted. "We work with local partners to ensure companies that need power have it as soon as possible," Lum said. "We stand ready to alleviate suffering after this Nor'easter—or any power outage—with generators that are rigorously tested and maintained for optimal reliability."
About Worldwide Power Products
Recently recognized by Forbes Magazine as one of America's 100 Most Promising Companies, Worldwide Power Products specializes in power generation equipment including new and used engines and generator sets. As an independent company based in Houston, Texas, the company buys and sells new and used generator sets and engines worldwide. In addition, the firm provides engineering, maintenance and repair plus rental services for job sites in Texas, Louisiana and the Gulf of Mexico. Generator sets range in size from 20kW - 2500kW and engines range in size from 150hp - 4000hp. Brand specialties include Caterpillar generator sets and engines and Cummins generator sets. For more information and a complete list of inventory, visit: http://www.wpowerproducts.com.