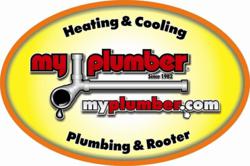 Fairfax, VA (PRWEB) November 09, 2012
My Plumber Heating and Cooling, a premiere plumbing service in Northern Virginia, announces the 11th year of its food drive initiative, Warm Hands and Full Hearts.
Warm Hands and Full Hearts is dedicated to redistributing food to those facing food insecurity in the communities surrounding Manassas, Fairfax, Arlington, Springfield, and Stafford. The organization was founded by the Presgrave family, and over the last ten years My Plumber has collected more than 80,000 lbs. of food.
The Warm Hands and Full Hearts initiative is a valuable demonstration of how a private business can do good in the community. Beginning November 1, and continuing throughout the winter season, My Plumber Heating and Cooling offers a $55 Winter Tune-Up in exchange, for 5 non-perishable food items. Household or personal supplies and baby items are also welcomed.
Collecting and shuffling all that food around is a massive task and an administrative nightmare, but the employees at My Plumber are happy to do it. Being able to help the hungry on such a large scale, is worth a few sore backs. The company works closely with religious organizations, food banks, and other services in their 25-county service area to help ensure that the food gets to those who need it the most.
My Plumber's tight-knit staff is justifiably proud of the Warm Hands and Full Hearts initiative, and donates many hours of their time to the effort every year.
It's easy for customers to participate as well. When a My Plumber employee makes a service call, they can simply take the donation along with them. Donations like shampoo and tampons are welcomed as well as non-perishable food items, however, glass bottles and refrigerator stock cannot be accepted. With the $55 Winter Tune-Up for all heating systems, everyone wins-- especially the needy.
About My Plumber:
My Plumber Heating and Cooling, a family-owned and operated full-service heating, cooling and plumbing company since 1982, offers a complete range of residential and commercial services including furnaces, water heaters, drain cleaning, sump pumps, 2- day bathroom remodels, and more with a Same Day Service Guarantee. Serving communities throughout Northern VA and Maryland areas including: Arlington, Alexandria, Fairfax, Springfield, Bethesda and Silver Spring, My Plumber Heating and Cooling has won numerous awards including 2011 Top Contractor to Work For P&M Magazine, 2011 Finalist for National Capital Business Ethics Award, 2011 Washington Business Journals Top 10 Mechanical Contractors, 2011 Smart CEO for D.C. Metro Area Top 10 Executive Management Teams and 2011 PHC Magazines Top 100 Mechanical Contractors. For more information about My Plumber visit http://www.MyPlumber.com or call 866-779-7204.