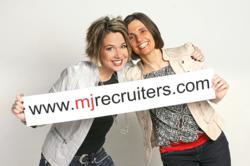 I always throw contracting out there first because all of our clients know that we can do direct hire recruitment. We are constantly delivering that message whenever possible.
Tiffin, Ohio (PRWEB) November 09, 2012
Maria Hemminger, Partner and Owner MJ Recruiters, LLC, spoke at the 2012 Chicago Fall Conference Two Day Workshop: A Years Worth of Talent Source Solutions, recently held by Top Echelon® Network. She stressed the importance of thinking outside the box when it comes to meeting client needs, particularly when it comes to their relationships with Network Trading Partners.
Hemminger formed MJ Recruiters with Joanna Spaun in 2005. They consider themselves to be "manufacturing generalists" who specialize in supplying contract and direct hire candidates in the fields of operations/supervision, engineering and quality, materials and procurement, and manufacturing human resources, IT, and accounting. Based in Tiffin, Ohio, most of MJ Recruiters' clients are within a two-hour radius, and they believe in meeting clients face-to-face to gain a full understating of their operations and needs.
MJ Recruiters' philosophy is to meet its clients' needs even if doing so takes them out of their comfort zones. As part of a panel presentation on how to "Make Money with Top Echelon Tools," Hemminger told convention attendees how they can leverage their relationships with Network Trading Partners to make more placements. Specifically, she discussed her unique partnership with Network Member Dave Sgro of True North Consultants, Inc.
At a previous Top Echelon Convention, Hemminger was inspired by another pair of recruiters who successfully shared a client because the work was too much for one recruiter to handle alone. Hemminger and Spaun brainstormed about how they could enter into a similar partnership with another recruiter.
"We got to thinking, is there anytime that we could benefit from that type of partnership?" Hemminger said. "The IT business came to mind. We don't grasp it like we do manufacturing and engineering. I don't even know what questions to ask to understand the technicalities better. We had turned down IT job orders in the past and did not want to continue doing that."
Hemminger and Spaun had worked with Sgro before and felt he was a good fit because he specialized in IT and understood what it took to meet the client's needs. Now when MJ Recruiters has an IT job order, Sgro accompanies Hemminger to the client meeting and prescreens all of the candidates for the proper technical qualifications. MJ Recruiters has made six split placements with Sgro, three just this year.
This unique partnership is a testament to MJ Recruiter's commitment to be a single source provider for all of their clients. An important aspect of that commitment is providing contract staffing to clients in addition to direct placements. Like Sgro, MJ Recruiters utilizes the contract staffing back-office services of Top Echelon Contracting. Hemminger says that contract staffing is mentioned first on their business cards. "I always throw contracting out there first because all of our clients know that we can do direct hire recruitment," Hemminger said. "We are constantly delivering that message whenever possible. We don't want them to go looking for our competitors when they need a contractor."
Debbie Fledderjohann, President of Top Echelon® Contracting, has worked with Hemminger and Spaun since 2005. "I've never worked with such a dynamic team who pour themselves into each job order to be sure they know exactly what each hiring manager needs. They never go into a client meeting with any pre-conceived notion about filling the job order with a direct hire or a contractor. Instead they listen to what the hiring manager says and come up with alternatives to meet the specific need. Once the need (job order) is defined, they begin their extensive screening process. Their statistic show that they have one of the highest 'job order to fill ratios' in the Network."