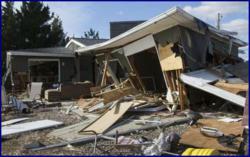 LANshack was spared the devastation from Sandy and appeals for donations to the Red Cross to help their neighbors
(PRWEB) November 08, 2012
Superstorm Sandy wreaked havoc on the Northeast coast, crippling most of New Jersey, Manhattan and Staten Island, NY with thousands of homes totaled and thousands of people still without power over a week later.
Another storm is hitting the area today; this time it is winter storm Athena bringing frigid temperatures, wind and snow to the already hard hit area. Many were forced to evacuate for the first storm and others who did not lose their homes have no heat, no lights, and no way to cook food.
Based in Beachwood, NJ, LANshack.com is feeling very fortunate to be spared the devastation that their neighbors have experienced and has offered assistance directly to some families in their town whose houses were destroyed.
In a special e-newsletter, LANshack.com, an online retailer of network cabling and connectivity products, is now appealing to its extensive customer base, in the U.S. and in 50 countries around the world, to support the American Red Cross effort.
To help victims of Superstorm Sandy, donations to the American Red Cross can be made by visiting Red Cross disaster relief, or you can text REDCROSS to 90999 to make a $10 donation.
# # #
About LANshack.com
Founded in 1997, LANshack.com is an online distributor of high quality datacom products - such as copper cabling hardware, fiber optic cable assemblies, tools and testers - catering to the low voltage cabling industry for use in premise networks, security, and electrical applications. The e-commerce site includes many new user-friendly features to aid in the selection and purchase of network cabling infrastructure products, from streamlined navigation to expanded informational offerings, a quote generation system, and an easy checkout process.