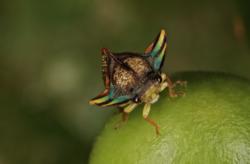 "What I am about," says Robert Oelman, "is a dedication to seeing all there is to be seen, all the surfaces, the movements, the play of light, the gestures and implications, and the inner worlds which shine through."
New York, NY (PRWEB) November 12, 2012
Robert Oelman, a professional photographer and American citizen now living in Colombia, is proud to present an exhibition featuring three of the most visually fascinating groups of insects from South American rain forests at the Agora Gallery in Chelsea, NYC from November 27-December 18. The three insect groups include: the incredibly diverse treehoppers; amazing leaf-mimicking katydids; and mantises, which are champions of camouflage. Mr. Oelman's aspiration has been to elevate insect photography into a new art form by crafting compositions of impeccable graphic and artistic quality.
Mr. Oelman, formerly a clinical psychologist in Boston, was intrigued by the novels of Gabriel Garcia Marquez and visited Colombia only to be entranced by its culture and physical beauty and decided to call it home in 1994. He and his assistant have traveled to remote rainforests in Colombia, Ecuador, and Peru in order to discover and photograph some of the most fantastic insects in the world. Many of these insects have never been photographed before, and to everyone except the most specialized entomologists, these insects are completely unknown and even "unimaginable."
Early on in his new career, Mr. Oelman focused on photographing hummingbirds in flight and since 2004, he has concentrated on the macro photography of live insects, the smallest of which measure only a millimeter in length. He has developed many techniques for enhancing the quality of insect photography.
"What I am about," says Robert Oelman, "is a dedication to seeing all there is to be seen, all the surfaces, the movements, the play of light, the gestures and implications, and the inner worlds which shine through. With eyes wide open and connected to heart and mind and spirit, it's amazing just how much there is to see and how spectacular it all is."
Robert Oelman's "Treasures of the Amazon Rainforest"
Nov. 27 - Dec. 18, 2012
Agora Gallery 530 West 25th Street New York City
http://www.Robertoelman.com
http://naturephotography.robertoelman.com/
https://www.facebook.com/RobertOelmanPhotography
http://www.flickr.com/photos/roboelman/