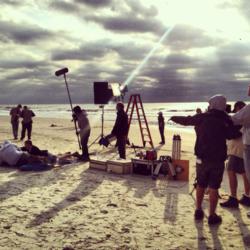 We have an incredible script and director, a superb cast and overall team in place and now it's time to make a movie.
Charleston, SC (PRWEB) November 08, 2012
Charliewood Pictures, a Charleston-based production and investment company focused on developing, supporting, and promoting South Carolina-based feature films, is pleased to announce that filming has begun throughout the Lowcountry on the independent feature film Warrior Road. Brad Jayne is the writer and director of Warrior Road, which is about three young men in the marshlands of South Carolina who rob a backwoods juke joint and flee up the Carolina coast, armed with psychedelics and a souped-up Cutlass. However, for one of the three, the journey is a quest for strength and courage in the face of a painful past.
A very talented cast has been assembled. Lorenzo Henrie, Kristopher Higgins and Eddie Hassell have landed the lead roles in the feature film along with Heath Freeman who has been added in a supporting role. Many of the other supporting actors as well as a fantastic crew are all local area professionals.
Lorenzo Henrie previously starred in the film Almost Kings and is the lead in the upcoming feature Riding 79. Kristopher Higgins' credits include the Vince Vaughn and Ben Stiller comedy The Watch, a recurring role on The Secret Life of the American Teenager and the upcoming Atom Egoyan's Devil's Knot as Jessie Misskelley, Jr. one of the West Memphis Three. The Kids are Alright actor Eddie Hassell has recently been cast in the Steve Jobs biopic Jobs and can next be seen in the feature film Family Weekend with Kristin Chenowith and Matthew Modine and Lifetime's Devious Maids. Heath Freeman previously wrote and starred in Skateland and recently completed filming the comedy A White Trash Christmas and Dark was the Night.
The team of innovative filmmakers, in addition to Jayne, a 2012 Sundance Audience Award winner making his feature directorial debut, includes producers Doug Coupe and Roberta Marie Munroe. "Charliewood Pictures collaborates with exceptionally talented filmmakers, like Brad and his team, to tell cinematic stories that inspire the mind, spirit, and imagination," states Charliewood Pictures' Associate Producer Cleto Augusto, "and we are excited to have Warrior Road be our first feature film. Much of the cast and crew assembled showcases the talent we have here plus the beautiful South Carolina coastal communities."
"Lorenzo, Kris and Eddie are fantastic as these three young leads with Heath being a gem in his role and all are great additions to this film and our very talented team led by writer/director Brad Jayne who is an amazing visual storyteller," states Producer Doug Coupe. "We have an incredible script and director, a superb cast and overall team in place and now it's time to make a movie," he adds.
Warrior Road began filming October 29th in Charleston and will continue through early December in the Charleston area as well Edisto Island and Myrtle Beach employing many talented members of the film community including local production professionals, actors and numerous local business partners. To follow the progress of filming, you can visit http://www.RideWarriorRoad.com.