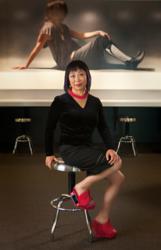 Morrisville, NC (PRWEB) November 08, 2012
Geomagic®, a global company providing 3D technology for digital reality, announced that its CEO Ping Fu will spotlight 3D printing and its promise to revolutionize daily living as well as design and manufacturing processes at the Techonomy 2012 annual event next Monday, November 12 in Tucson.
The exclusive gathering tasks the world's top innovators to explore how they can apply digital technologies to massively transform the global economy. As part of the "What's On YOUR Printer?" panel, Ping Fu will join acclaimed 3D printing industry leaders Peter Weijmarshausen, CEO of Shapeways, and Stephen Hoover, CEO of PARC, a Xerox company, to discuss the role of 3D printing as an engine of economic change. Accompanied by a variety of 3D printed objects including a 3D printed guitar, personalized prosthetics, iPhone cases, shoes and more, Ping will discuss the transformative effect of additive manufacturing, from the Space Shuttle to fashion, consumer products, building products and biocompatible organs and food. She'll survey the 'personal factory' where customized objects can be created as easily as mass produced objects using new scanning and additive fabrication methods – and its impact on everyday life.
Ping Fu was honored by Inc. Magazine as "The Entrepreneur of the Year" and has been active in setting national policy as member of the White House's National Advisory Council on Innovation and Entrepreneurship and its National Network for Manufacturing Innovation (NNMI) initiative on additive manufacturing. Coming straight to the US from China, where she had been imprisoned during the cultural revolution, she became a computer scientist and initiated the first Internet browser, and went on to co-found Geomagic in 1997. Geomagic's industry-leading software is used to process scan data into digital models for design, engineering, analysis and inspection. Ping's latest book, Bend Not Break, (Penguin Books), will debut in January 2013 and can be pre-ordered now.
WHAT: Techonomy 2012: Panel on "What's On Your Printer?"
WHEN: Monday, November 12, 2012 at 4:45 pm PT
WHERE: The Ritz Carlton, Dove Mountain, Marana, Arizona
WHO: Ping Fu, Founder & CEO, Geomagic, joined by Peter Weijmarshausen,
CEO of Shapeways and Stephen Hoover, CEO of PARC, a Xerox company,
and moderated by Paul Sloan, Executive Editor, CNET
About Geomagic
Geomagic (http://www.geomagic.com) is a global company dedicated to advancing and applying 3D technology for the benefit of humanity. Different from CAD, Geomagic offers specific products to create 3D content from imaging the real world and real people, verify dimensional quality by comparing a master design to as-built products, and simulate touch sensations in digital environments.
Geomagic customers are the most innovative companies in industries ranging from aerospace, automotive, toys, mold, medical device, surgical simulation, consumer products, arts, heritage, research and education. Some of the leading companies around the globe using Geomagic products include Ford, BMW, Boeing, Harley Davidson, Timberland, Fisher Price, Lego, Pratt & Whitney, NASA, Schneider Electronic, 3M, Danaher and Invisalign. Geomagic is based in Research Triangle Park, NC, USA, with an office in Boston and subsidiaries in Europe and Asia, and partner channels worldwide.
###
Geomagic, Geomagic Studio, Geomagic Qualify, Geomagic Qualify Probe, Wrap, Geomagic Wrap, Phantom, OpenHaptics, Omni, Freeform, Claytools, Sensable and Sensable Technologies, Inc. are trademarks or registered trademarks of Geomagic Inc. All other trademarks are the property of their respective owners.