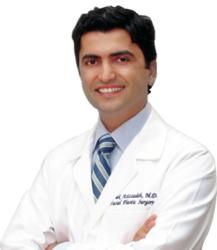 We are honored and humbled to have such an amazing neuromuscular facial retraining specialist spend some time at the Institute.
Beverly Hills, CA (PRWEB) November 10, 2012
Jacqueline Diels OT, one of the very best facial muscle retraining therapists, is visiting Beverly Hills facial paralysis expert, Babak Azizzadeh, MD, FACS, and the Facial Paralysis Institute in Beverly Hills from November 12 - November 16, to provide further insight into facial paralysis therapy options.
"We are honored and humbled to have such an amazing neuromuscular facial retraining specialist spend some time at the Institute," explains Dr. Babak Azizzadeh.
Diels is an expert in the field of facial paralysis, and will work with Dr. Azizzadeh and his experienced team at the Facial Paralysis Institute in Beverly Hills all week. Jackie Diels has over 25 years of experience working exclusively with patients who need to retrain their facial muscles after Bell's palsy, facial paralysis, and other causes.
"We are excited about the upcoming visit, and for Jackie to spend time with our patients and staff. We know how much valuable information she will be able to provide during her visit," says Dr. Azizzadeh.
Facial physical therapy with Diels consists of special movement coordination exercises and stretches to help improve the patient's ability to make facial expressions after the damaging effects of paralysis. While the results of facial physical therapy may take a while to set in, patients will eventually be able to make facial expressions that are more similar to their pre-paralysis expressions.
"While we are making great strides in surgical treatments for facial paralysis, facial reanimation therapy is an essential component to the full recovery of a patient," says Dr. Azizzadeh.
Many patients experience synkinesis after paralysis, a condition in which the nerves heal incorrectly and send the wrong message to muscles in the affected area. For example, when a patient tries to smile, their eye will close. Diels provides patients with specific techniques to counteract the effects of synkinesis so they can make a more normal facial expression.
"Jackie's experience and expertise is key in helping people deal with facial paralysis. She specializes in facial nerve disorders, and her proven track record speaks for itself," notes Dr. Azizzadeh.
Diels, who travels to the Facial Paralysis Institute several times a year, is one of the world's leading authorities on facial neuromuscular retraining (NMR), a non-surgical therapeutic approach to the treatment of facial paralysis, paresis and synkinesis. She has over 25 years of proven experience, and has authored book chapters, articles and lectures extensively to patients, physicians and therapists. Diels has personally treated over 10,000 individuals, and continuously works hard to empower patients and medical professionals to improve facial paralysis and quality of life through insight, education and training.
Dr. Babak Azizzadeh is a renowned Beverly Hills facial plastic surgeon, recognized as a Top Doctor by the US News & World Report. Since his extensive and prestigious training at Harvard Medical School, Dr. Azizzadeh has helped countless people with facial paralysis and Bell's palsy. Dr. Azizzadeh is the director of the Facial Paralysis Institute and founder of the non-profit Facial Paralysis & Bell's Palsy Foundation. He is the principle investigator of facial nerve regeneration project at Cedars-Sinai and the author of five bestselling books, including the definitive facial paralysis textbook entitled "Slattery Facial Nerve."
Dr. Azizzadeh is trained in Facial Plastic & Reconstructive Surgery, as well as Head & Neck Surgery, giving him a distinctive insight into facial nerve function and facial aesthetics. He has been recognized for his work on several occasions, and has appeared on the Oprah Winfrey Show for his expertise in facial nerve reconstruction. Dr. Azizzadeh is also the director of the USC Facial Plastic Fellowship Program as well as the Cedars-Sinai Multispecialty Plastic Surgery Symposium.
For more information visit http://www.facialparalysisinstitute.com or call (310) 657-2203.