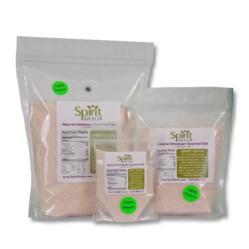 Himalayan Crystal Salt is salt in its native form, with all its vibrational energy intact and it helps promote a healthy balance in your body
Bakersfield, CA (PRWEB) November 08, 2012
California health and wellness retailer Spirit Detox (http://www.spiritdetox.com) launched their own brand of Natural Himalayan Salt this week to customers via their website.
The salt -- currently available in 8 ounce, two pound, and five pound packages -- is derived from ancient Himalayan lays deep within the Earth. These untouched, unpolluted reserves give the salt a perfect crystal form and allows the product to be free from many different poisonous elements currently found in standard table salt. In addition, the reserves are considered a "living salt" meaning that they are continually growing and expanding in a natural form without chemical additives.
"Today's table and cooking salt is void of the vital trace minerals that make this Himalayan crystal salt so precious. Crystal salt has spent over 250 million years maturing under extreme tectonic pressure, far away from exposure to impurities," states Albert Milligan, owner of Spirit Detox. The product is hand harvested and sun dried to help keep the product in the purest form possible.
Recommended for both cooking and topical uses, Spirit Detox also notes that their product is a great diet addition to anyone looking to boost their health. "Himalayan Crystal Salt is salt in its native form, with all its vibrational energy intact and it helps promote a healthy balance in your body," Milligan continues.
While slightly higher priced than ordinary salt, Spirit Detox wants their customers to know that the health benefits greatly outweigh the cost. Benefits of Himalayan Salt include boosting the body with electrolytes and alkaline minerals and keeping a natural pH balance intact. Himalayan Crystal Salt has also shown to work as a natural antihistamine reducing congestion for those suffering from seasonal allergies when used in a steam or vaporized form. The salt has also shown to help with reducing cellulite, soothing skin irritants/conditions, and helping promote healing after surgery or injury when used in topical form.
Spirit Detox Natural Himalayan Salt and other quality wellness products are available via their website, http://www.spiritdetox.com.