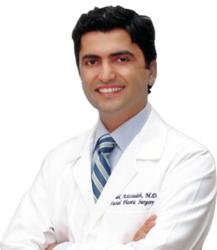 I feel honored to have been able to participate in the events this past weekend. I'm looking forward to next year's symposium already.
Beverly Hills, CA (PRWEB) November 12, 2012
Babak Azizzadeh, MD, FACS in Beverly Hills, co-directed this year's Multispecialty Plastic Surgery Symposium at Cedars-Sinai Medical Center in Los Angeles, bringing together hundreds of the countries top aesthetic surgeons for a weekend long course. The symposium aimed to provide an outlet for educating those in the fields of oculoplastic surgery, facial plastic surgery, dermatology, and plastic surgery on new surgical techniques, products, and practice methods. Other co-directors included Guy G. Massary, MD, Andrew Cohen, MD, FACS, and Randy Sherman, MD, FACS.
"We had an excellent conference this past weekend. It's wonderful to be able to not only speak about new techniques, but to also be able to provide those in attendance with information and lectures from the top surgeons in their cosmetic practice areas," said Dr. Azizzadeh.
The Multispecialty Plastic Surgery Symposium had several different educational objectives during it's course, including (among many) microtia, evaluation techniques and treating ptosis in patients undergoing blepharoplasty, listing the various flaps available for head and neck reconstruction, and discussing new techniques for surgical brachioplasty and body contouring as well as the management of facial nerve disorder. Above all else, the symposium strived to provide an outlet for physicians to interact with one another and to give in depth instruction regarding the most advanced new surgical and non-surgical facial rejuvenation and body plastic surgery techniques.
"Methods for performing surgeries and treating patients are constantly changing. The goal of this course is to always bring any new techniques to the attention of aesthetic professionals," said Dr. Azizzadeh.
As a co-director of this year's symposium, Dr. Babak Azizzadeh had the privilege of providing a live patient demonstration on Friday, which dealt with the role of injectables in facial rejuvenation. Dr. Azizzadeh also served as a moderator on Sunday's panel discussion regarding Head & Neck Reconstruction.
"I feel honored to have been able to participate in the events this past weekend. I'm looking forward to next year's symposium already," said Dr. Azizzadeh.
Other key speakers at the symposium included Rebecca Fitzgerald, MD, Jeffrey Kenkel, MD, FACS, Robert Goldberg, MD, Allen Putterman, MD, SC, and Tessa Hadlock, MD.
Dr. Babak Azizzadeh is a board certified facial plastic surgeon in Beverly Hills who has an extreme knowledge of the facial anatomy and cosmetic procedures of the face. He completed a fellowship in facial plastic & reconstructive surgery at the prestigious Harvard Medical School, and is the author of five bestselling books, including "Master Techniques in Facial Rejuvenation" and "Beverly Hills beauty Secrets." Dr. Azizzadeh is also the director of the USC Facial Plastic Fellowship Program, and the director of the world renowned Cedars-Sinai Advances in Multispecialty Aesthetic and Reconstructive Surgery Symposium.
For additional information regarding Dr. Azizzadeh and the various surgeries and procedures performed at the CENTER for Advanced Facial Plastic Surgery in Beverly Hills, please contact the office by calling (310) 657-2203.