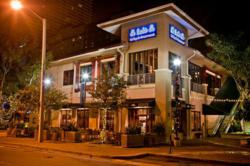 Miami, FL (PRWEB) November 09, 2012
Fado Irish Pub located in Mary Brickell Village heads into the Holidays with an answer for companies determined to reward their staff during the challenging economic times. Fado remains a quality venue for large firms and companies, who need to scale back on budgets and opulence without sacrificing quality in their experience.
http://www.fadoirishpub.com/miami/sharable-appetizers
Aileen Iturralde, Fado Event Manager Fado Irish Pub in Miami shares, "We hear from many companies who have had to reduce the size and/or scope of their traditional holiday party because they don't want to go overboard when they are pulling back in other areas. Yet, we've found we can create a high quality party, in a great environment on a tight budget."
Fado serves up a fun and inviting atmosphere well suited for a range of occasions no matter the budget. Its new menu provides variety and a contemporary twist on traditional Irish fare.
The event staff at Fado works one on one with customers to create a party with the specific tone the host has in mind. The staff helps the host plan a customized menu, entertainment, and specific space to fit their needs. And a planning option that sets Fado apart from the rest is the freedom of choice when it comes to their party menu.
Don't take our word for it though, visit our party planning page and find out what great companies have to say about us.
http://fadoirishpub.com/miami/private-event-venue-in-miami
About Fado Irish Pub
Fadó, pronounced f'doe, is the Irish expression meaning "long ago". Fadó tells the story of Ireland's rich and celebrated pub culture. It is a culture of hospitable surroundings, good food and good drink, and friendly conversation. Fado's pride is the quality of our food, great pints, how the pub looks and feels and the staff. Fadó is unique in that it was constructed in Dublin and then shipped to Miami for assembly at the Mary Brickell location. Irish pubs have always been the social center for their communities and Fadó continues that fine Irish tradition. For more information please visit http://www.fadoirishpub.com
Find us on Open Table: http://www.opentable.com/fado-irish-pub-and-restaurant-miami
Contact: Events manager, Aileen Iturralde 786-924-0972, aileen(at)fadoirishpub(dot)com
https://twitter.com/fado_aileen