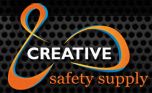 (PRWEB) November 15, 2012
Creative Safety Supply, the online provider of industrial supply products and services, is offering workplace training tips, via their website, to help keep employees safe. They are promoting lean education with articles and links on lean manufacturing and lean products and more. This comes as good news to employers and employees alike seeking better ways to help improve the safety of the workplace and to reduce injuries and possibly even deaths.
The tips offered by Creative Safety Supply contain a wealth of information regarding best safety practices. They list in their "Lean Principles" guide, helpful information on 5S Training, Six Sigma, GHS, MSDS, Arc Flash Training, Pipe Marking, Kaizen, Kanban Training, and Lean Training specifics. In addition, Creative Safety Supply offers "featured" safety products to use to implement safety standards, including tape protection, stop signs, label printers and more.
Creative Safety Supply is dedicated to providing high quality safety products and services to industries around the country. They offer a wide variety of industrial floor tapes, such as the popular SafetyTac, label makers, reflective tape and much more. Their training tips and services are part of their ongoing effort to increase all around safety in the workplace, through education, information, and effective products.
About Creative Safety Supply
Based in Beaverton, Oregon, Creative Safety Supply offers a wide selection of industrial supply product lines and services, including the latest 5S, 6S, visual workplace, lean manufacturing, and ergonomic products to streamline business operations. They specialize in industrial floor tape, label makers, and 5S products. They supply a vast collection of safety products, such as an extensive inventory of arc flash products. Customers can purchase products instantly through CreativeSafetySupply.com and most orders received before 1pm Eastern Standard Time can be delivered on the same day. They offer consumer deals such as free ground shipping on purchases of $100 or more. For more information, visit http://www.creativesafetysupply.com or follow them on Facebook or Twitter.