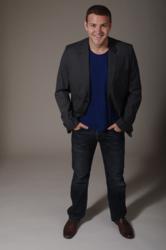 For those who don't have $100,000 to spend on test prep, this offer might seem outlandish. However, for ambitious parents who can afford this offer, it's a smart way to assure their children the best college admission prospects possible.
New York, NY (PRWEB) November 08, 2012
New York SAT tutor Anthony-James Green is no stranger to ambitious parents; Green commands a rate of $500/hour for his services, and has bookings as far in advance as June of 2014. However, in an attempt to offer a guarantee above and beyond the offerings of his competition, Green is now offering parents around the world a "$100,000 bet" for his SAT tutoring services.
The rules of Green's bet are simple: parents give Green one year, during which time he will work ceaselessly with their children on all aspects of their test prep and college admissions strategy. At the end of one year, if the student breaks a 2000 on his or her SAT, the student's parents owe Green $100,000. However, if the student does not break the crucial 2000 point barrier, the parents owe Green nothing.
"2000 is the magic number," says Green of the rationale behind his bet. "At the end of the day, at the most competitive colleges in the world, SAT scores are good for one thing: getting your application looked at. They're a shortcut. If a student can break the 2000 mark, and he has decent grades, then almost any school in the country will open his application and read more. If he doesn't break that barrier, most schools won't even take a look."
Green has gained a reputation as one of the best SAT tutors in the country, due in large part to his results with clients who "tend to be quite influential." Green has taught over 300 students one-on-one, with an average score improvement of nearly 400 points, a number unheard of in the SAT prep industry. He attributes "lack of accountability" as the number one problem with the SAT tutoring industry, and his $100,000 bet is an attempt at bringing what he views as a stronger guarantee back into the realm.
"You'll hear a lot of companies talk about their features - some new algorithm they use, or some new tracking device, or whatever - but they very rarely talk about what they actually accomplish. Most test prep companies and services don't have what I call "sibling retention" - in other words, they might tutor someone's older sister, but then they don't tutor her. They're not providing results, which is the only thing that the clientele at my level is paying for in the first place. As a result, they don't get younger siblings, and they can't offer guarantees. This is an entirely new way to offer SAT tutoring, and for the right parent, it's a very tempting offer."
Green admits that for those without $100,000 to spend on test prep, this offer might seem a bit outlandish. However, he maintains that for ambitious parents who want their children to get the highest SAT scores possible, this is a powerful option.
"My interests are always aligned with those of my clients - this just takes things to the next level. When I work with my students, I usually spend 30-40 hours with them, and another 20 hours of my own time in the background. With the $100,000 bet, I'll be spending hundreds of hours over the course of the year. After all - if I don't break the 2000 threshold, I don't get paid. It's as simple as that."
Parents interested in learning more about the $100,000 SAT score bet can do so by visiting the page on Green's new site here:
http://thetestpreppro.com/100000-bet/
Parents can also visit Green's main site at:
http://www.TheTestPrepPro.com to download Green's free guides, 100 Points in 100 Minutes and 9 Things Every Parent Needs to Know About the SAT, just for joining his mailing list. Members of his mailing list will also receive free SAT updates, tips, practice guides, and members-only offers and discounts from his educational network.
Green is the author of Own the SAT, The Perfect 12 Manual for the SAT Essay, Vivid Vocab, Every College Question Answered, and has been called "the best SAT tutor in New York" by multiple New York City and international publications.
Green currently lives in downtown Manhattan, where he tutors students full-time when not working on his Test Prep Method products and services.
###