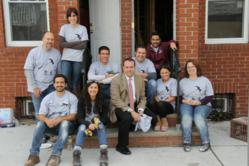 Tapping into the business community in Newark is a key objective for our fundraising and outreach goals.
Newark, New Jersey (PRWEB) November 08, 2012
Writers, graphic artists and web designers are not well known for their skills in installing Sheetrock or framing out a closet.
But that did not deter the staff of Jaffe Communications from recently spending the day in the Ironbound section of Newark, helping to build a two-family home for a hard-working Habitat for Humanity family as part of the first-ever "Corporate Challenge."
"Sure, we were a little bit out of our element, but we saw this as another great opportunity to give back to Newark," said Jonathan Jaffe, firm principal. "Habitat for Humanity has been a public relations client of ours for many years. When they unveiled the `Corporate Challenge' this year, we jumped at the opportunity, donating time and money to support a wonderful client and a worthy endeavor."
Jeffrey Farrell, executive director of Habitat for Humanity Newark, said the Corporate Challenge was an overwhelming success, with such companies as Anheuser Busch, Merck, Met Life and Credit Suisse helping build two homes now under construction in the Ironbound.
"I appreciate Jaffe Communications and the many other Newark-based businesses that participated in our first-annual event," Farrell said. "Tapping into the business community in Newark is a key objective for our fundraising and outreach goals."
Jaffe noted his firm actively looks to support the Newark community, as Jaffe Communications has the largest concentration of Newark-based clients of any public relations firm. The firm is based on Academy Street, in the center of the city's business district.
Farrell noted that donations to Habitat for Humanity are just as important as helping businesses donating staff. Companies unable to provide the staff to spend the day building a home are urged to provide a donation for building materials. "So much expense goes into constructing a home, as well all know," Farrell said. "The success of this Corporate Challenge hinges on financial support – from those who volunteer to build and others."
Jaffe noted The Star-Ledger was a superb partner in the Corporate Challenge, providing free advertising in its Essex County editions to recruit corporations and to raise awareness of the event, which ran weekdays during October.
Learn how you can help at http://www.HabitatNewark.org
Learn more about Jaffe Communications at http://www.jaffecom.com