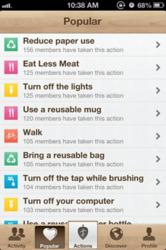 Washington, DC (PRWEB) November 08, 2012
NewsWatch, a national television show, recently aired a segment on Commit2Act, a mobile App dedicated to global improvement. Andrew Tropeano, host of AppWatch, a weekly segment dedicated to new and upcoming apps, reviewed Commit2Act .
Commit2Act is a new mobile app that helps empower our youth to make meaningful and effective change within the community on a global scale. Users can discover, share, and commit to take positive actions to reduce their impact on the environment. Commit2Act makes it easy to track the ways you're making the world a better place.
To start using Commit2Act, visit commit2act.org or download it through the App Store. Log in through any social media platform and start making a difference.
NewsWatch is a weekly 30-minute consumer oriented television show that airs nationwide. NewsWatch regularly features top travel destinations, health tips, technology products, medical breakthroughs and entertainment news on the show. The show airs in 180 markets nationwide as well as all of the top 20 broadcast markets in the country, and is the preferred choice for Satellite Media Tour and Video News Release Distribution.