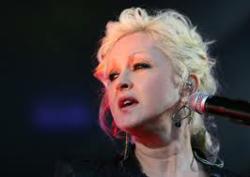 Cyndi arrived looking ravishing and youthful, her face rosy and her hair coiffed and blonde
New York, NY (PRWEB) November 08, 2012
"Girls Just Wanna Have Fun" may be her motto, but Cyndi Lauper was all business when she arrived at Frames Bowling Lounge with some associates on Wed afternoon.
They bowled and discussed plans for Ms. Lauper's 2nd Annual "HOME FOR THE HOLIDAYS" Concert benefiting her TRUE COLORS FUND, which raises money to eradicate gay and transgender youth homelessness.
Cyndi arrived in a silky black lace top and looked ravishing and youthful, her face rosy and her hair coiffed and blonde. She happily posed for some photos as the server came around to collect their orders, and chatted about her upcoming concert in December.
The group was gracious and relaxed, enjoying glasses of Reisling and rounds of Beer. They sampled some of Frames famous taster platters, and enjoyed the energetic atmosphere. Bowling proved the perfect release after an unfortunate and devastating loss in her family. A close relative who made the painful choice not to evacuate died in the Rockaways during Hurricane Sandy. Cyndi had spent the last few days donating her time and money to relief efforts for other Sandy victims.
The 2nd annual "Cyndi Lauper & Friends: Home for the Holidays" benefit concert will take place on Saturday, December 8th at New York City's historic Beacon Theater.
FRAMES is a Bowling & Billiards Lounge located on 9th Avenue at 40th Street in NYC. It features a gracious lounge, 2 bars, a Billiards room and 28 sleek bowling lanes, including 2 with VIP access. The NYC Bowling Lounge has a modern, luxurious vibe, and is considered the ultimate spot in nightlife and bowling entertainment. To find out more about Frames Bowling Lounge, visit http://www.framesnyc.com.