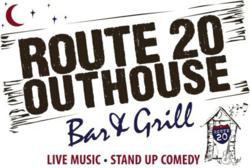 (PRWEB) November 08, 2012
Route 20 Outhouse Bar & Grill, located just off I-94 on Hwy 20 in Racine, is holding an all inclusive New Years Eve Party and tickets are now on sale.
Tickets for Route 20 Outhouse's New Years Eve Party went on sale October 22nd. There are four packages to choose from, including live music, food, drinks, hotel accommodations and shuttle service.
Live music featuring 6 bands, Glen Morrison, The Saturday Night Preachers, Rivals of the Peacemaker, Donoma, The Plateros and Matt Meyer & The Smoothriders, will entertain guests until the wee hours in the morning.
Hotel accommodations and a limo shuttle service are included to ensure that guests have a fun and safe New Year's Eve.
Guests will also be able to take advantage of Route 20 Outhouse's New Year's Eve dinner buffet and open bar. Some restrictions apply to the open bar, but premium liquor options are available.
A $1K Midnight Balloon Drop will take place at 12:00 pm on the main dance floor. Balloons will be dropped from the ceiling containing $1000 worth of cash and prizes.
Route 20 Outhouse's New Year's Eve Party has a 450 capacity. Tickets are now available for purchase, $250 a couple or $150 a person.
For more information on Route 20 Outhouse's New Year's Eve Party or to purchase tickets, call (262) 898-7900 or visit http://www.route20outhouse.com.
About Route 20 Outhouse Bar & Grill
The Route 20 Outhouse is the best new place for live music, comedy and entertainment. Route 20 Outhouse Bar & Grill is Racine County's home for live entertainment and largest screen around for game day. Patrons can experience quality entertainment from performers such as Pat McCurdy, comedian Andy Woodhull and The Toys while they enjoy food and drinks in Route 20 Outhouse's sleek new sports bar atmosphere.