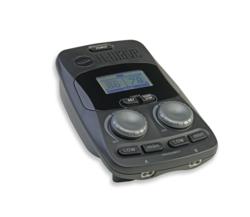 H-Wave is the first choice therapeutic modality for our staff
Huntington Beach, CA (PRWEB) November 09, 2012
The H-Wave is a small, portable, non-invasive and drug-free electrical stimulation device that is used in doctor's offices, physical therapy clinics and can be prescribed for home use allowing patients to treat themselves. Previous research has shown that the device is effective in helping injured patients to reduce pain, improve range of motion and overall function, and reduce the need for oral medications. The device is designed to expedite recovery from soft tissue injuries.
A recent Wake Forest University School of Medicine study published in the Journal of Orthopedic Research showed that H-Wave treatment promotes arteriolar dilation, a component of the healing process. Researchers studied the device's effects on the arteriolar diameters of striated muscle. The striated muscle is also known as the skeletal muscle, because it is attached mainly to the bones and skin, and is responsible for the mobility of the body and limbs. The diameters were measured in the cremaster muscle of 57 male rats before and after H-Wave treatment or sham stimulation at one or two Hz for 30- to 60-minute periods.
At the same time, researchers blocked nitric oxide synthase with topical L-NAME at 10 (-5) M to examine the role of nitric oxide on H-Wave treatment.
H-Wave treatment both at 1 and 2 Hz resulted in significant arteriolar vasodiation (p<0.05) while the arterioles in sham stimulation showed no changes in diameter. Similarly, microvascular diameters did not change with H-Wave treatment following the blockage of nitric oxide production, which suggests the response of vasodilation is dependent on nitric oxide. The arteriolar dilation following H-Wave treatment increases blood flow between 26 to 62 percent in a single vessel, researchers said.
This study, like many of the previous peer reviewed studies, makes a strong case for this type of treatment. H-Wave technology has been used for three decades in the treatment of work-related and sports injuries as well as other types of chronic pain and circulation issues. In fact, is has been used with players and trainers from more than 60 professional sports teams.
Lenny Currier, Director of Sports Medicine at Villanova University, said the university's trainers and physical therapists enjoy the ease of use and wide-ranging applications the H-Wave provides.
"Whether the need is for post-surgical muscle re-education, or controlling the pain, spasm, and edema associated with acute injuries, H-Wave is the first choice therapeutic modality for our staff", Currier said.