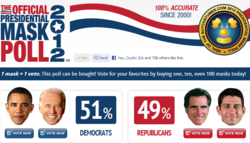 The mask sales for the lead candidates was truly a face-off!
New Berlin, WI (PRWEB) November 07, 2012
The BuyCostumes.com 2012 Official Presidential Mask Poll successfully predicted the next President of the United States! The company sold more individual Barack Obama masks than Mitt Romney masks, correctly identifying the winner for the 4th consecutive election. Paul Ryan masks outsold Joe Biden masks 2:1, swinging the mask poll in Romney's favor (causing the company to "prematurely republicate" earlier this week). Poll numbers have shown for weeks that Paul Ryan kept Romney in the race moreso than Joe Biden helped Obama's campaign – proving that the POTUS doesn't need a wingman to reclaim his place in the West Wing.
BuyCostumes.com, however, historically declares a winner based solely on the sales of the lead candidates, and this year was no different: The Democrats bought their candidate another four years in office. After all of the numbers were tallied, and when comparing mask sales of just the presidential candidates, Barack Obama won the poll by a margin of 100 masks!
"Looking at the combined sales data, we calculated that Mitt Romney and Paul Ryan would take office," reported CEO, Dan Haight, "but the mask sales for the lead candidates was truly a face-off " jests Haight.
The company's site features an interactive map of the United States, indicating the mask sales for each state. According to BuyCostumes.com's proven philosophy, for every mask sold, Republicans and Democrats increase their candidate's odds of occupying the White House.
BuyCostumes.com tracked the outcome of the election through candidate mask sales at http://www.BuyCostumes.com/PresidentialMaskPoll. Click here to see the data.
About BUYSEASONS, Inc.
Founded in 1999, BUYSEASONS, Inc. is the leading online retailer of costumes, accessories, party décor and supplies for year-round celebrations and entertaining. BUYSEASONS, Inc. owns and operates BuyCostumes.com, the largest internet retailer of costumes and costume event décor, as well as BirthdayExpress.com, CostumeExpress.com and CelebrateExpress.com. This group of e-retail sites offers birthday and general party supplies for ages one to 100, plus one of the largest assortments of kid's and family friendly costumes at any single online location. In addition, BUYSEASONS, Inc. operates a private-label drop ship program for other internet retail partners. BUYSEASONS, Inc. is a wholly owned subsidiary of Liberty Interactive Corporation.