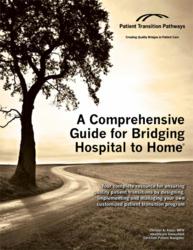 Now hospitals can implement a quality program at no cost, and reduce or eliminate their financial penalties. All while providing cutting edge transitional care to their patients. Hospitals would be foolish not to take advantage of this offer.
Denver, CO (PRWEB) November 09, 2012
Patient Transition Pathways, LLC today announced their campaign to make the biggest impact possible on hospital readmission rates and their associated financial penalties. This movement comes on the heels of the re-election of President Obama, as fears of the elimination of the historical Patient Protection and Affordable Care Act (PPACA) of 2010 by a new Republican President subside.
Patient Transition Pathways, LLC is offering their hospital readmission reduction program, entitled The Patient Transition Pathways Program: A Comprehensive Guide for Bridging Hospital to Home, to the hospitals in the U.S. that have received the maximum penalty of 1% due to their above average patient readmission rates. Taking advantage of this offering will save hospitals thousands of dollars in program fees and Medicare penalties, resulting in an immediate positive financial impact and Return on Investment (ROI).
The PPACA contains numerous measures aimed at reducing the rate of growth for Medicare costs. One of these measures transfers the financial burden of patient readmissions back onto the hospitals in an effort to entice hospitals to spend more time on the quality transition of patients out of the hospital. If a hospital's readmission rate is higher than the national average, the hospital can be heavily penalized and lose thousands of dollars they would have normally received from the Center for Medicare and Medicaid Services (CMS). The Patient Transition Pathways Program™ gives hospitals the tools they need to create a high-quality transition program that helps patients recover from acute myocardial infarction, heart failure, and community acquired pneumonia without being readmitted to the hospital within the critical 30-day post-discharge window. Hospitals that employ the Patient Transition Pathways Program™ will significantly lower their patient re-admission rates for these diagnoses by providing systematic follow-up care, increased patient education, and superior monitoring post-discharge; thereby saving the hospital thousands of dollars and ensuring a smoother recovery for patients.
The program's developer, Christel Kozar, is a Certified Patient Navigator and experienced health care Consultant. "This program is unique because it has been prepared using the most successful elements of patient care programs, patient navigation approaches to quality communication, and proven healthcare models," said Kozar. "By supporting hospitals with the offering of this one-of-a-kind program for no cost, I feel I am positively affecting hospital sustainability, which will ultimately lead to improved patient care. This is a powerful position to be in, and I want to use this power to significantly impact the quality of patient transitions, while reducing the financial pain of the hospital."
The Patient Transition Pathways Program™ includes a comprehensive manual, complete with background information on the PPACA, best practices for determining program goals and outcome measure, information on how to fund the program, budgeting, ROI, staffing information and protocols for quality transitional care. Included in the program is a CD containing all of the forms that can be customized for the hospital's own use and access to the program's developer for training and support. For more information on the program or the PPACA, visit http://www.PatientTransitionPathways.com or call 720-509-9019.
______________________________________________________________________
Patient Transition Pathways, LLC is committed to a dual mission that supports both hospitals and patients as they navigate the new Medicare reform. As the healthcare industry evolves, the Patient Transition Pathways Program™ leads positive change by providing a win-win business solution that puts the health of the patient first. While influencing hospitals nationwide with our continuous improvement mentality and forward-thinking strategies, Patient Transition Pathways, LLC is redefining patient care to ensure a future where hospital sustainability and patient care go hand-in-hand.