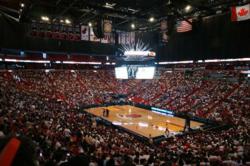 Denver, CO (PRWEB) November 08, 2012
The Heat is on in Miami. Still in the after glow of their second franchise title, and with a serious shot at a repeat this year, Miami Heat fans are showing an unquenchable thirst for tickets.
Fans showered the team with applause and adoration last Tuesday night during the pre-game ring and banner ceremony, complete with an indoor fireworks show. The Heat went on to put the Celtics on ice with a 120-107 win in the teams' season opener.
"We're seeing a serious run on Miami Heat tickets," said Felina Martinez at online ticket marketplace BuyAnySeat.com. "American Airlines Arena is officially sold out or selling out for many of the Heat's upcoming games," said Felina Martinez "As we've seen with the Dolphins, fans in Miami are absolute fanatics when it comes to supporting their teams. That's why we're proud to be able to offer Heat fans a complete selection of cheap Miami Heat tickets, with a worry-free guarantee to protect their purchase," said Martinez.
"In fact, we have a big selection of discount Miami Heat tickets, now available on our site," said Martinez. "To access the selection of cheap Miami Heat tickets we now have available, customers can go to BuyAnySeat.com and search for the Miami Heat – then select their tickets," said Martinez.
Located in downtown Miami along Biscayne Bay, the American Airlines Arena opened on December 31, 1999, with a construction cost estimated at $213 million. The arena holds 20,000 Miami Heat fans, all of whom are hoping to see the team achieve a repeat title this year.
What's behind all the hope, hype and optimism? Many NBA prognosticators believe that last year's MVP, LeBron James, and his experienced teammates, most notably Dwyane Wade and Chris Bosh, have the horsepower to win back-to-back championships. Another reason is the addition of the veteran sharpshooter Ray Allen, who came over from the Celtics as a free agent, taking less money in the hopes of winning a second NBA championship of his own.
Another plus according to pundits is that the Heat appear to have learned their lesson from 2006, when they won the title, but did little to improve in the off-season. In the meantime, Miami fans have turned up the heat with their ticket purchases and proud, passionate support.
To shop for cheap Miami Heat tickets, or tickets to any other NBA team or game, visit BuyAnySeat.com.
About BuyAnySeat.com: An online ticket marketplace, BuyAnySeat.com connects sports, theater and other live entertainment fans to an extensive worldwide network of ticket sellers. The site's simplified listings and navigational tools enable fans to easily locate, compare and purchase inexpensive, discounted or lower-priced tickets to virtually all advertised sports and entertainment events around the globe. The site, which is PCI-compliant and Norton Secured, also provides customers with a complete Worry-Free Guarantee on all ticket purchases. Based in Denver, Colorado, BuyAnySeat.com is a subsidiary of Denver Media Holdings. For more information, please visit http://buyanyseat.com.