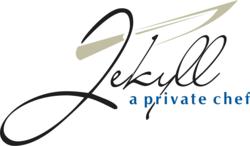 Why not enjoy the beachfront vacation home you have rented to the fullest? At Jekyll - A Private Chef, we can provide the gourmet-level dining you want
Destin, FL (PRWEB) November 09, 2012
After years of cooking experience, licensed personal culinary chef Carey Stegall knows how good food can bring people together. Stegall is better known around Destin's vacation hotspots as Chef Jekyll, and his clients range from private individuals to local events and businesses around Florida's Emerald Coast. As the holiday vacation season draws closer, Chef Jekyll encourages vacationers to consider the benefits of hiring a private chef for their own beachfront paradise.
Many shoreline vacationers rent private beachfront homes for the duration of their stay, and these lodgings generally have fully-stocked kitchen facilities. But even cooking for two can waste trip time grocery shopping at unfamiliar stores, driving in heavy traffic during vacation seasons, and preparing meals and planning menus. Even dining out has its downsides, with high prices and long waits that threaten to bring unwelcome stress into the picture.
Chef Jekyll offers a solution to these hassles by bringing the restaurant to you. His services allow vacationers and their guests to enjoy gourmet dining in their own home without the hassle, and with his specialties including local seafood, Italian and traditional southern cuisine, he offers a great variety of dishes for every budget and diet. Restaurant food is rarely both healthy and delicious, but Chef Jekyll specializes in customizing his creations to fit every diet and special nutritional need.
"Why not enjoy the beachfront vacation home you have rented to the fullest?" said Carey Stegall. "Chef Jekyll provides the gourmet-level dining you want without the hassle of driving to and from a restaurant and waiting for a table. You can have delicious, healthy meals prepared right in your own vacation home. Go ahead, relax and let Chef Jekyll do the cooking."
About the company:
Proprietor and Emerald Coast "native son" Carey Stegall – better known as Chef Jekyll – is a licensed private chef specializing in Local Seafood, Italian, and Southern Comfort cuisines. His clients include private individuals, businesses and families in Destin and throughout the Emerald Coast region of Northwest Florida. Returning to Destin, Florida in 2011 after his career in the military, Chef Jekyll has cultivated the local roots that were planted here 35 years ago among the emerald seas and white sands. Inspired by his travels around the world and residence on three continents, this newly established entrepreneur has honed his culinary skills to a fine edge. For more information, please visit their website at http://www.chefjekyll.com.