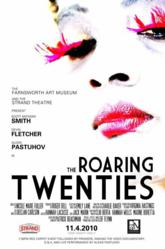 Rockland, Maine (PRWEB) November 08, 2012
The Farnsworth Art Museum's Young Filmmaking Program, established in 2009, is dedicating their fall semester to a newly kindled focus on the distribution aspects of filmmaking. Their tasks involve researching various venues including film festivals, local schools and online video platforms, as well as creating promotional materials, discussing strategic planning, and creating contacts in the area; and for the first time, beginning this November, their films are available online at vimeo.com/farnsworthmusem. The group of teens has made three films since 2010: The Roaring Twenties, ArtWORKS, and Stories of the Land and its People.
The Roaring Twenties is a chilling eight-minute narrative music video set partly in the present, but chiefly in the 1920s. Shot entirely on an iPhone, this piece introduced the filmmaking crew to many aspects of film production, including lighting, acting, script writing, costume design and makeup.
ArtWORKS is eighteen minutes long and tells the true stories of several teens from midcoast Maine who have struggled in life and who use art as a way of dealing with their issues. The filmmaking group used the time-intensive media of stop-motion animation to tell these stories —a painstaking process that involved much work with plenty of individual materials.
Stories of the Land and its People is a twenty-eight-minutes-long documentary which follows the integration of art into four of midcoast Maine's elementary schools: Hope Elementary, Lincolnville Central, Iselsboro Central, and Appleton Village. The arts-integration project was sponsored by The Farnsworth Art Museum. The filmmaking crew learned about the making of documentary film, including the art of interviewing each subject and communicating real life situations through film.
The Farnsworth Art Museum's Young Filmmaking Program was established in 2009, with the purpose of collaborating with midcoast Maine's youth to create films. For more information on this program, please contact Farnsworth Communications Officer David Troup at 207-596-6457 ext.128 or by e-mail at dtroup(at)farnsworthmuseum.org.