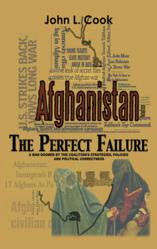 In very harsh, brutal terms, this work exposes all the lies the American public has been told relating to Afghanistan.
Orlando, Fla. (PRWEB) November 08, 2012
Why, after more than 10 years of intense combat, is the United States no closer to winning the war in Afghanistan than when it began? Retired Lt. Col. John L. Cook aims to answer this question in his revealing new book, "Afghanistan: The Perfect Failure" (published by Xlibris).
American troops are due to withdraw from Afghanistan in 2014 – but at a significant cost: more than 2,000 U.S. soldiers are dead, and an immeasurable amount of time, money, and blood has been dedicated to the war.
A searing social and political commentary, "Afghanistan" is an exposé of the appalling realities that continue to sabotage U.S. forces' combat efforts. Explaining eloquently why all the major objectives in Afghanistan have failed, Cook shatters the myth that the war was ever "good" or winnable.
"In very harsh, brutal terms, this work exposes all the lies the American public has been told relating to Afghanistan," he says.
Serving as senior adviser to Afghanistan's Interior Ministry, Cook saw firsthand why Afghan officials were ineffectual.
"Corruption has completely penetrated every level of the Afghan government," he says.
Even worse, an unchecked opium trade, ongoing maltreatment of women, and a misguided war on Islam further contribute to the U.S.-led coalition's inability to make any headway.
Cook is a highly decorated veteran of the Vietnam and Afghanistan wars, earning the Silver Star, three Bronze Stars, and a Purple Heart during his two-decade career as an intelligence officer. As a senior adviser in Afghanistan, Cook oversaw the development of the force structure of the Afghan National Police.
"It is my hope that this book will appeal to all Americans who care about the truth of what is going on in Afghanistan. We must no longer turn a blind eye."
About the Author
Lieutenant Colonel John L. Cook, U.S. Army (Retired), author of seven books, was born and raised in the coalfields of southern West Virginia and is an alumnus of the University of Delaware and Boston University. Lt. Col. Cook spent 20 years in the Army as an intelligence officer and now spends his time writing and pursuing other varied interests. He is an expert on weapons development and military strategy, having written military doctrine on unconventional warfare.