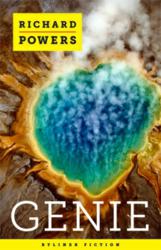 Richard Powers is America's greatest living novelist.
— Tom Bissell, Boston Review
San Francisco, CA (PRWEB) November 09, 2012
National Book Award winner Richard Powers (The Echo Maker, Galatea 2.2, Generosity) has been hailed as the smartest novelist of our time. Few writers have bridged the gap between art and science so compellingly, so passionately, and with such inimitable precision. In a new e-book published by digital publisher Byliner, Genie ($2.99) is a short story of epic proportions. In it, Powers goes sci-fi, turning a failing relationship between a randy scientist and a staid statistician into a quest—not only for love and connection but for a way to connect to intelligent life in the universe.
Anca is an ambitious cellular biologist determined to be the first to diffuse the microbial time bombs inside ever more fatal viruses. Warren works in numbers and codes. He follows the rules and likes it that way. When Anca uses the opportunity of a romantic camping trip to swipe samples of ancient bacteria from one of Yellowstone National Park's fumaroles—bubbling pools filled with life more diverse than in a rainforest—Warren sees the writing on the wall: Anca will never behave. They break up, until Anca makes a discovery that is just too mind-blowing to handle alone. Could she have found proof of intelligent design, the signature of the creator himself? Or is it a message left by an unknown—and unearthly—life form?
The race that Anca and Warren embark on together will change everything they have ever believed or felt—about life, each other, and the mysteries of the cosmos.
ABOUT THE AUTHOR: Richard Powers is the author of ten novels, including Galatea 2.2, Plowing in the Dark, The Echo Maker, and Generosity. The Echo Maker won the National Book Award and was a finalist for the Pulitzer Prize. Powers has received a MacArthur Fellowship, a Lannan Literary Award, and the James Fenimore Cooper Prize for Historical Fiction. He lives in Illinois.
ABOUT BYLINER: Byliner commissions and publishes original stories written to be read in a single sitting. Bestselling Byliner titles include Amy Tan's Rules for Virgins, Margaret Atwood's Positron, Jon Krakauer's Three Cups of Deceit, Ann Patchett's The Getaway Car, Nick Hornby's Everyone's Reading Bastard, and Buzz Bissinger's After Friday Night Lights. The companion website, Byliner.com, gives readers personalized access to an unmatched library of fiction and nonfiction, handpicked by our editors. On Byliner, readers can discover new writers, explore, save, and share great stories, connect with other readers, and even engage directly with their favorite writers.
Genie is available for $2.99 as a Kindle Single at Amazon, a Quick Read at Apple's iBookstore, a Nook Snap at BarnesAndNoble.com, a Short Read at Kobo, and at Google Play.
For an Advance Reading Copy or to schedule an interview with Richard Powers, please contact Clare Hertel at clare(at)byliner(dot)com; 505-474-6783.
###