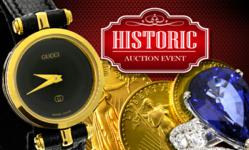 "The 1872-CC Double Eagle minted in Carson City is quite scarce in good quality." stated auctioneer Paul Sabesky
Tehachapi, CA (PRWEB) November 07, 2012
GovernmentAuction's November 10, 2012 auction of a large cache of luxury goods including, Rolex watches, precious gems and gold coins headline this weekend's auction event on the online auction site Proxibid.com. No longer just reserved for the few elite, luxury goods can be obtained at just a fraction of retail prices. Some goods are refurbished while others are factory year end closeouts. Collectors and bargain hunters alike can bid on over 1,200 items in this one day historic auction event with bidding starting at only $2 on most lots.
An auction highlight is a exceptional gently used Men's Rolex Daytona Superlative Chronometer Watch. Certification engraved on the timepiece face attests to the fact that the watch has endured stringent testing by the COSC (Controle Officiel Suisse des Chronometres) an independent association which certifies that a watch must demonstrate thru testing exceptional precision in different positions and temperatures. The watch is gold with engraved black units per hour, red incremental dial and gold face.
A featured high end jewelry piece is a gorgeous a 51.28CT Tanzanite & 7.39CT Diamond Necklace. The piece measures eighteen inches in length and is crafted of 14kt white gold with twenty-two oval cut natural Tanzanite's that are each surrounded by round cut diamonds with a total carat weight of 7.39CT, that are in addition to the 51 carats of the main gemstones. Also included with the multitude of jewelry pieces is a elegant 27.04CT Pear Cut Blue Sapphire & Diamond Ring. The ring is composed of 14k white gold with the large sapphire elevated above the band portion of the ring. The band enclosure is "V" shaped to match the proportions and composition of the main sapphire and is surrounded by 1.82CT's of diamonds on the side.
In keeping with the luxury theme offered for auction is a Louis Vuitton "Claudia" Purse. The top purse is brand new from the factory and sure to be a bidding favorite. The top handle handbag is mainly white with leather straps and corners with the LV signature design prominently featured as a multicolored pattern throughout. The monogram multicolor is a creation of designer Takashi Murakami exclusively for Louis Vuitton.
In addition to the luxury goods being presented, the auction house is also featuring a collection of gold coins. A unique coin offered is a 1872-CC U.S. $20 Liberty Gold Coin. The "Double Eagle" as the coin is also referred to was minted from 1850 to 1907 during the height of the California gold rush. Of all the gold coins minted before 1907, the Double Eagle had the highest gold content. "The 1872-CC Double Eagle minted in Carson City is quite scarce in good quality." stated auctioneer Paul Sabesky.
In the fine art category a highlight item is a Roy Lichtenstein ''Aspen Winter Jazz'' - Original Poster. Lichtenstein was a well known American artist in the 1960's during the area of Warhol and Rosenquist. His work defined pop art and frequently was humorous in it's depiction.The 1967 pop art poster is one of Lichtenstein's most uniquely colorful pieces. It features a design of a musician and his saxophone in red, gold, and black. The piece in unframed in good condition.
Additional auction highlights include a 6.40CT Princess Cut Diamond Gemstone, Audemars Piguet Watch, 2007 Lexus GS 350 and more.
To view this auction please click the link below
Rolex Watches, Louis Vuitton Handbags & Gold Coins - Saturday, Nov 10, 2012 | 6:30 AM Pacific
https://www.proxibid.com/asp/catalog.asp?aid=59107
For additional information on any lot in the sale, call Debbie on 661-823-1543 or e-mail info(at)governmentauction.com.
About Government Auction
Government Auction was founded as a general resource to buying assets such as jewelry , gemstones, memorabilia, collectibles, art, prints, antiques, and vehicles throughout the United States. Most people don't realize there are hundreds of thousands of assets and valuables that are seized everyday and made available through various resources. Many of these confiscated assets are passed on to us for immediate liquidation. Some examples of how we acquire requisitioned objects are from bankruptcies, IRS, estate sales, trusts, and more.
Government Auction is the largest company of its kind and the only one in the United States that works closely with these agencies to acquire literally thousands of assets and confiscated goods, such as Ruby Gemstones, Sapphire Rings, and Men's President Rolex Watches, Mercedes Benz, and Gold Coins. In most cases we acquire these treasures at a fraction of their actual retail value. Once acquired these items are liquidated through the auction site. Clients are made up of just the everyday person who wants to buy a Diamond Bracelet, Pearl Strand Necklace, Sterling Silver Pink Sapphire Earrings, Oval Cut Emerald Gemstone Parcel, Remington Bronze Reissue at an unbeatable price.
All assets that we offer are normally at a 30% - 60% savings to the client. What this means is consumers are making a good investment immediately. By purchasing assets cheaply people can make a sizeable profit if they decide to resell it later on.
Government Auction is one of the most reputable jewelry and gem clearinghouse company in the U.S., with over 20 years of experience.